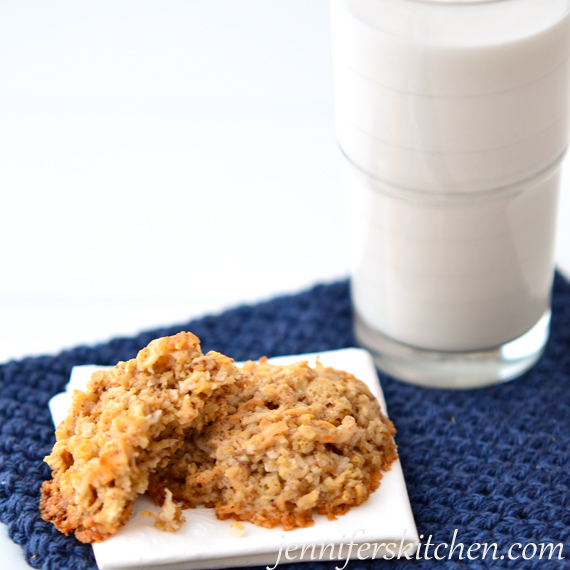 This website is brought to you without annoying ads because we can better live healthier lives without the influence of marketing. But running a high-traffic site is expensive. How can you help? If you purchase anything through the affiliate links on my site, your cost is the same, but I receive a small commission. Thank you!
According to WebMD, cookies make the list of the "9 Most Fattening Foods of Winter".  I'm sure you're not surprised, as any food whose primary ingredients are butter, sugar, and white flour are bound to pack the pounds.
What about Fat-Free Cookies?
Well, I've heard it said there's a law in Yummy Dessert Land that states if something is low in fat, it's high in sugar, and if it's low in sugar, it's high in fat.  Sure enough, a closer look at the ingredient label on fat-free cookies reveals that those diet-friendly-wannabe's are loaded with other fattening ingredients like sugar, high-fructose corn syrup, and "enriched wheat flour" (an ingredient that's highly refined like sugar).
But if you think your only two choices are to feel guilty or to forever proscribe cookies, I have good news.  These Coconut Chewy Crisps are quite healthy, as far as cookies go, because they contain no butter, no eggs, no white flour (which contributes to weight gain), no baking powder (which contributes to digestive disorders and bone loss), and are made with whole grains, raw sugar, and good-for-you coconut.
About the Ingredients in This Recipe
Flax – A "flax egg" replaces eggs and baking powder in these cookies. What is a flax egg?  Simply ground flax seed that you whip with water until it becomes very stretchy. The flax egg holds the cookies together and keeps them from being too heavy – without the fat and cholesterol of eggs.
The flax seeds also add some healthy fiber and omega-3's.  Omega 3's have been shown to help decrease inflammation, improve brain function, contribute to clear skin, lower cholesterol, fight depression, and even help prevent wrinkles.
I use my coffee grinder to grind my flax seeds into flax meal.  Golden flax has a milder flavor, so if you're new to flax in your cookies, you might want to use it instead of the brown flax.
Coconut – I use unsweetened coconut in these cookies. Coconut is a healthy food and can help with weight loss, as long as it isn't laden with sugar.
Crispy Rice Cereal – There are several brands of crispy rice cereal on the market, from the familiar Rice Krispies to the not-so-common-but-very-yummy Nature's Path Crispy Rice, and any one of them will work fine in this recipe.  Some of the other brands include Erewhon, One Degree, and Barbara's.
Almond Meal – Almond meal is simply ground almonds. You can use pre-ground almonds (almond flour) in these cookies, or you can easily grind your own almonds by placing raw almonds in a food processor and processing until they are very, very fine.
Coconut Milk – I like to use coconut milk that's made from just coconut and water, without added guar gum, sodium carboxy methyl cellulose, polysorbate 60, sodium metabisulfite, potassium metabisulfite, and other additives that I would like to avoid.
Coconut milk separates in the can, so I always dump the whole can in my blender and blend it up before using/measuring out for a recipe.
About the Directions in This Recipe
Mixing – This recipe gets a lot of mixing.  This is the real reason why these cookies are slimming – your arms get a work out and you burn 300 calories before you even get one bite!   Kidding.  But seriously, be sure to follow the instructions as the mixing is essential for light, chewy, and crispy cookies.
My electric hand mixer has a nifty little timer on it so I can mix it for just the right amount of time.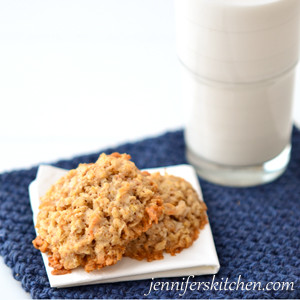 Print
Coconut Chewy Crispies
This healthy cookie is light and crispy and just a little bit chewy.
Instructions
Place flax meal and very hot water in a small to medium bowl. Stir together. Set aside.
With an electric mixer, cream together oil and sugar in a mixing bowl. Beat very well on high speed. This may take a few minutes. Raw sugar and a small amount of oil take longer to cream together than do white sugar and a lot of butter. Set aside.
Beat flax meal and water mixture on high speed for 1 1/2 minutes. Flax mixture should be very fluffy and stretchy.
Pour flax mixture into oil and sugar mixture and mix on high speed for 1 minute.
Add coconut milk, vanilla, and salt and beat on high speed until very thoroughly mixed.
Add almond meal and mix well.
Stir in oats, coconut, and rice cereal. Mix until all ingredients are thoroughly incorporated. (I use a spoon for this step.)
Drop by teaspoonfuls onto oiled baking sheet.
Bake at 350°F for 18 to 20 minutes or until lightly browned on the bottom and edges. Allow to rest on baking sheet for 1 to 2 minutes before removing to rack to cool.
Notes
See notes in post above for more information on the ingredients and mixing directions for Coconut Chewy Crispies.
Want some more healthy cookie recipes?  Check these out!
Popular Posts