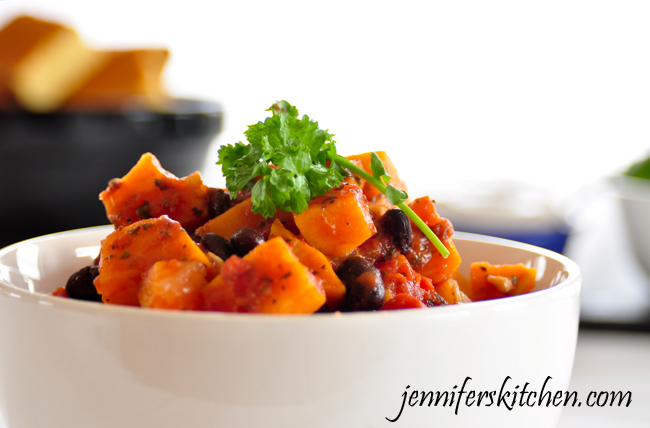 I receive numerous emails asking, "How can I lose weight if I don't like vegetables?"
While there are lots of tips and sneaky tricks that I use for the die-hard vegetable hater, I've found that, for the average person, the most common reason for not liking vegetables is the method of preparation. I mean, seriously … who would want to eat mushy-textured, gray-colored, bland-tasting food?
Sometimes, simply preparing a vegetable in a different way can turn a disgusting vegetable into one that isn't so bad after all. For example, if you hate sweet potatoes – perhaps because you've been traumatized by grade-school memories of syrupy sweet, marshmallow-topped, mushy cafeteria sweet potatoes – maybe you'd like this nutritious vegetable served in a more savory way.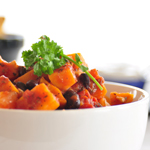 Print
Sweet Potato and Black Bean Chili
Ingredients
2 medium sweet potatoes, peeled and diced small
2 medium onions, diced
2 tablespoons olive oil
4 cloves garlic, minced
1 cup water or vegetable broth
3 cups (one 28-ounce can) crushed tomatoes
1 1/2 cups (one 15-ounce can) can diced tomatoes
1 tablespoon dried basil
1 tablespoon dried oregano
1 tablespoon dried parsley
2 teaspoons cumin
2 teaspoons granulated onion
1 teaspoon paprika
1 teaspoon granulated garlic
1 tablespoon honey
1 tablespoon lemon juice
1 1/2 cups (one 15-ounce can) black beans, drained
1 1/2 teaspoons salt, or to taste – see note
OPTIONAL TOPPINGS
chopped cilantro
diced green onions
Instructions
Peel and dice sweet potatoes and onions. (I use my veggie chopper to get this done quickly.)
In a soup pot, sauté onion and sweet potato in oil over medium heat until onions begin to look translucent.
Add garlic and sauté for 1 additional minute.
Add remaining ingredients, except black beans and salt.
Cover, and bring to boil. Reduce heat and simmer for 30 to 40 minutes or until sweet potato pieces are soft.
Add beans and season with salt to taste. (Note: If your black beans contain salt, you may want to reduce the amount of salt in the recipe.)
Cook until thoroughly heated.
Serve hot with corn chips or corn bread and sour cream.
Notes
This chili is very mild - add some heat if you'd like a spicier chili.
Popular Posts