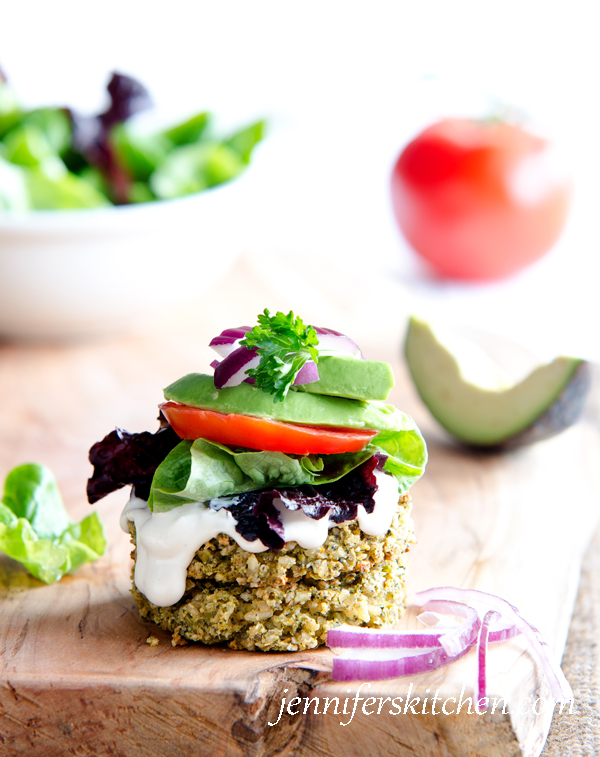 Didn't eat your veggies today? No problem. The Broccoli Burger has you covered!
While these burgers are not on the same page as a meaty burger – actually, they're not even in the same book (it's broccoli already) – they are quite delicious!
When I was first experimenting with these, I was thinking broccoli on a bun didn't sound that good, so I planned to call them patties and serve them on a plate next to some mashed potatoes. And then, I tried it on a bun. Aaaaaaaamazing!!!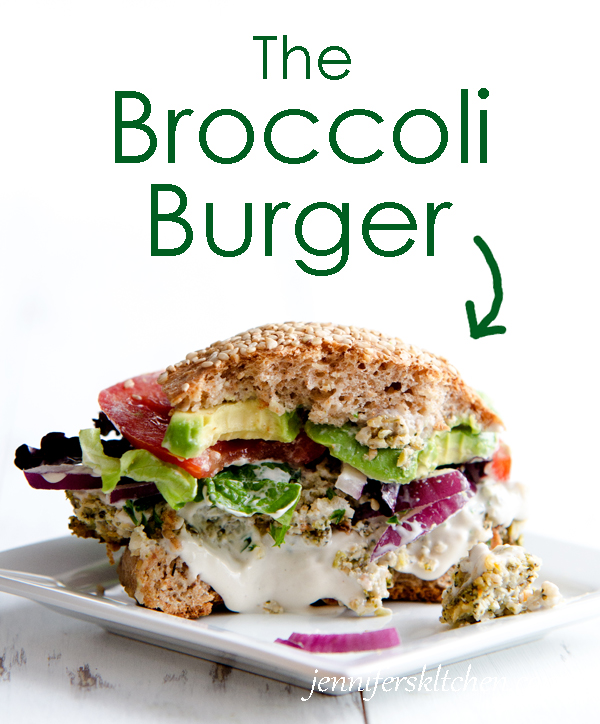 I topped mine with tomatoes, lettuce, avocado, onion, and some of this scrumptious Creamy Italian Dressing. Hands-down my favorite meal of the week. 🙂
How to Shape a Burger
Ever wonder how to make nice, uniform burgers or patties so they cook evenly and look nice?
A canning ring works really well for this. Simply put a canning ring on your baking sheet, scoop the mixture into the ring, pat down firmly (with fingers or a spoon), and remove ring. Perfect burgers every time.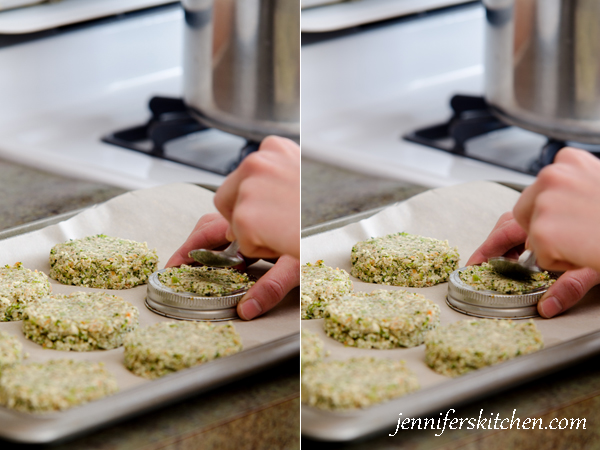 Veggie Burger Hash?
A note on technique and texture. I make these burgers in a food processor – which is a very handy tool that I also use to make Cranberry Pecan Bars, Oil-Free Pesto, No-Bake Coconut Date Bites, and more. If you don't have a food processor, I highly recommend getting one. It will save you time and open up a whole new world of easy and delicious foods to make.
Anyway, as I was saying, there is a bit of technique involved with getting the right texture. You want to chop the ingredients in the food processor just long enough so they are coarsely chopped and hold together, but you don't want to process so much that the mixture turns to mush and your burgers are, well, mushy.
But don't be nervous. The recipe below gives step-by-step instructions … and even if your burgers still turn out mushy, they still taste really, really good. And if they don't hold together, veggie burger hash is actually quite yummy.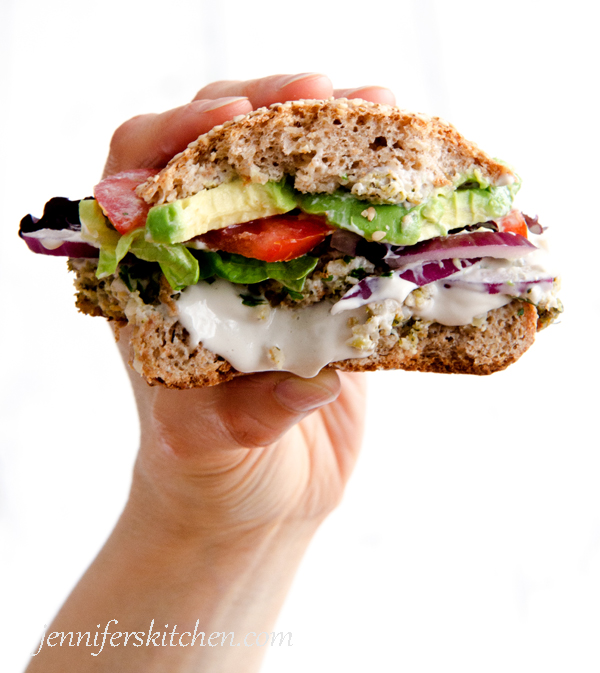 Leftover Tofu?
The recipe uses 1/3 block of tofu. So, what do you do with the leftover tofu? You could put the remaining block of tofu in the freezer to make this aaaaamaaaazing Sesame Stir fry, or check out this delicious Italian Vegetable Soup … or you could make two more batches of these broccoli burgers and have some in the freezer for later. (See notes in the recipe about freezing these burgers.)
Be sure to buy water-packed, extra-firm tofu for this recipe. Silken tofu, soft tofu, and the tofu sold in those aseptic, shelf-stable boxes don't work here.
Some Like 'Em Hot
These burgers taste much better hot than cold. (Cold broccoli? Never developed a taste for it.)
Health Benefits of Broccoli
Broccoli, and other cruciferous vegetables, such as kale, cabbage, cress, Brussels sprouts, and bok choy, contain sulforaphane, a natural plant chemical that stimulates the body to produce enzymes that fight cancer.
Researchers have discovered that sulforaphane can halt human breast cancer cells in their tracks, prevent the replication of prostate cancer cells, and dramatically reduce the risk of colon cancer.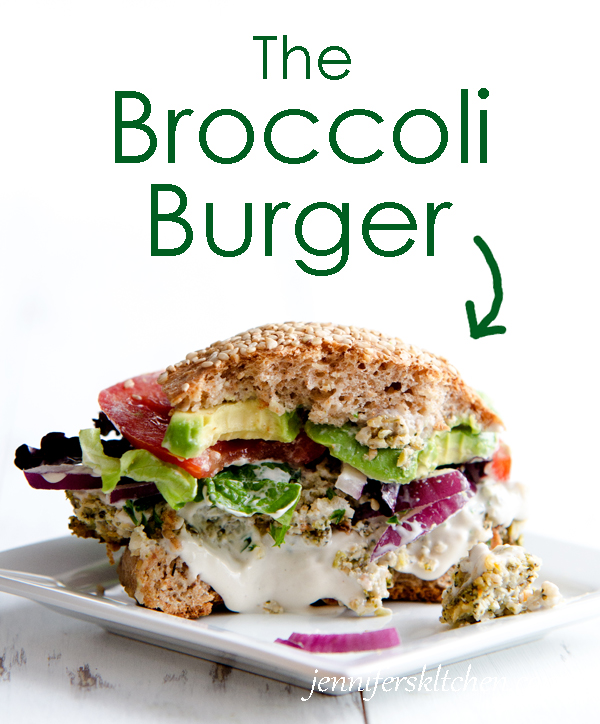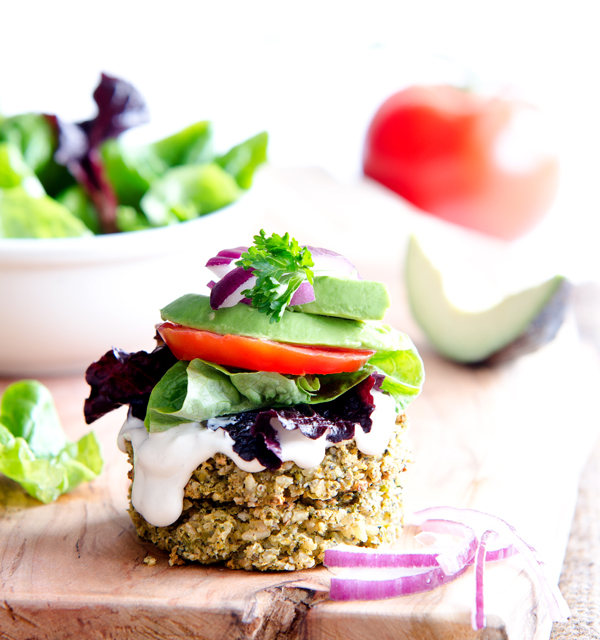 Broccoli Burgers
A variety of studies have found that broccoli – the star ingredient in these burgers – plays a significant role in preventing cancer.
Ingredients
1 1/2

cups

small, raw broccoli florets

-

(about 1 medium head broccoli)

1

small

carrot

1/4

cup

raw sunflower seeds

4

ounces (about 1/3 package)

extra-firm, water-packed tofu, drained well

- Use remainder of the block of tofu in this Sesame Stir-Fry

4

teaspoons

granulated onion -

(1 tablespoon + 1 teaspoon)

2

teaspoons

dried parsley

2

teaspoons

dried basil

3/4

teaspoon

granulated garlic

1/2

teaspoon

dried oregano

1

teaspoon

salt

-

scant

2

teaspoons

lemon juice

1

cup

hot, cooked brown rice -

If using leftover rice, see note.
Instructions
Steam broccoli until just barely tender.

Meanwhile, cut carrot into 2 to 3 large pieces and place in food processor. Process until finely chopped.

Add sunflower seeds to food processor and process until coarsely ground.

Add tofu, seasonings, and lemon juice and pulse until tofu is evenly crumbled.

Scrape down side of processor bowl. Add rice and pulse 2 to 3 times.

Scrape down side of processor bowl again. Add broccoli and pulse approximately 10 to 15 times or until broccoli is evenly chopped. There should be no large pieces of broccoli, but you don't want to over-process or burgers will be mushy.

Shape into burgers (2 1/2-inches in diameter – See instructions in post.) Place on oiled baking sheet.

Bake at 350°F for 35 minutes or until burgers are browned on the bottom. Serve hot.
Notes
1. This recipe works best with freshly cooked brown rice. If using leftover rice, be sure to reheat it. Using cold rice will cause the burgers to have a dry texture and fall apart.
2. These burgers can be frozen. When ready to eat, remove from freezer and reheat in a cast iron skillet over very low heat. Please be aware that they do tend to fall apart more after being frozen and reheated. (See note #3.)
3. I like to break apart my reheated burgers and mix them with this Creamy Italian Dressing to make a delicious sandwich spread.
>> One quick request: if you like this recipe, please leave a rating and a comment. Ratings help more people find these healthy recipes!
Print Recipe
Want More?
For more healthy and delicious recipes like this one that will simplify your journey to a healthier and thinner you, check out my
Healthy Weight Loss Program!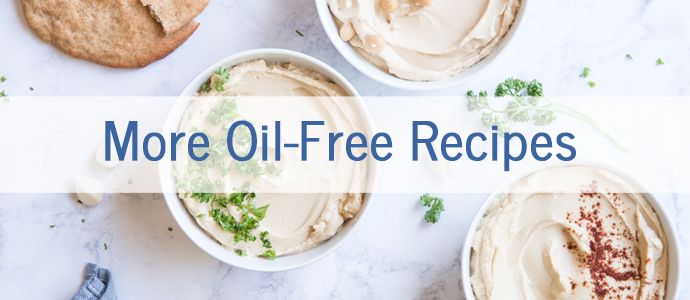 You my also like:
Before you go . . .
Did you know that you can eat all this delicious food AND lose weight? You can!
No calorie counting. No portion sizes.
Join my online weight loss program today!