Roasted Carrots and Parsnips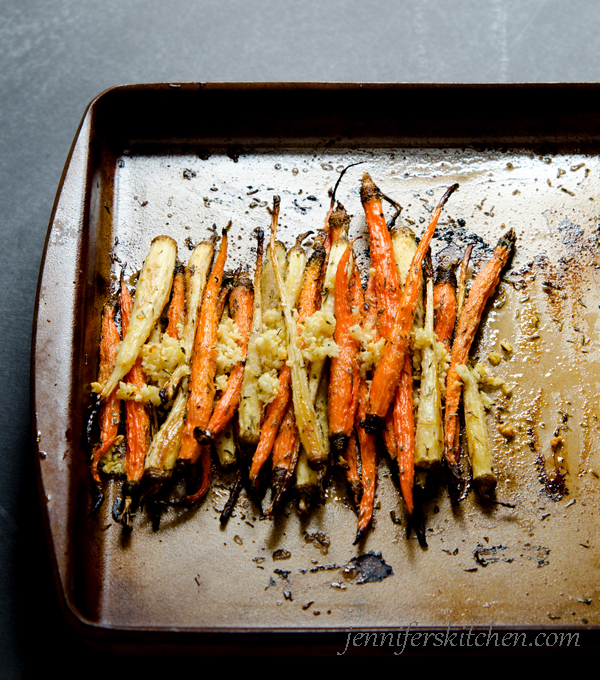 Vegetable-eating isn't exactly on my top ten list. And from what I've heard, a lot of other people aren't overly crazy about the process either.
I'm not sure, but I have a suspicion that the lack of excitement over vegetables may have something to do with slimy spinach and beets that taste sort of like flavored dirt.
Yay for roasted vegetables! Roasting brings out the sweetness of veggies and makes them taste less like veggies. Aaaand they are neither slimy nor dirty-tasting. I've discovered that even the pickiest eater can sometimes be enticed to eat a few vegetables if they are prepared by roasting.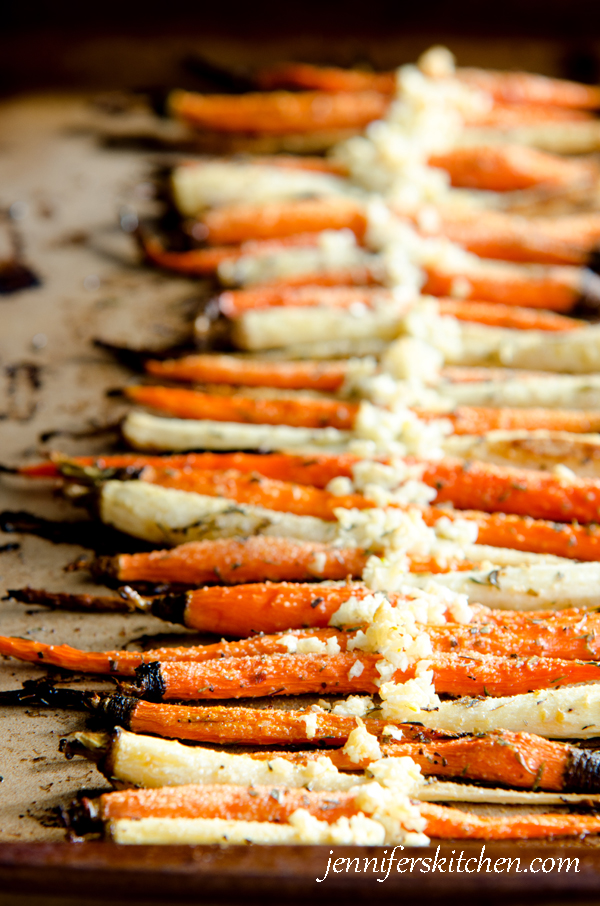 Growing Parsnips
Growing a garden in the summer is rewarding, but there's nothing quite like having fresh garden produce in the snowy winter months. Parsnips are perfect for this.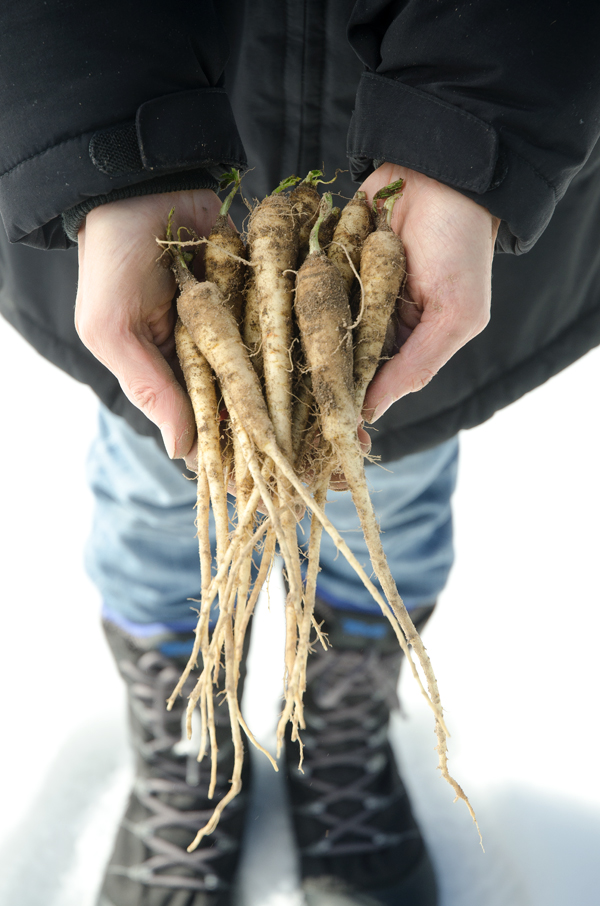 How to Grow Parsnips to Harvest in the Winter
Plant your parsnip seeds in the spring. (We planted our parsnips a little late this year, so they didn't get very big, but they were perfect for this roasted parsnip recipe.)
In the fall, cover your parsnip plants with a thick layer of leaves. I think straw or hay would work also, but I haven't tried either.
In the middle of winter, when you want some fresh parsnips, push away the snow (or if you live in Michigan like I do, you'll have to shovel away the snow), move the mulching of leaves, and then grab your shovel and dig!
Even if you've had several days of below zero weather, if you have a good layer of mulch, you probably won't have more than a half inch of frozen ground – which you can easily dig through with a shovel. Underneath the mulch, the soil will be soft and loose and you can pull your fresh parsnips right out.
I think I must be a garden geek. I'm like a little kid when I get to get my hands in the beautiful, loose, dark soil in the middle of winter when everything around me is white and frozen. I get so excited I get goosebumps. Oh, wait. Maybe that has something to do with the fact that it's 9 degrees outside.
P.S
I'll be teaching a weight loss class in Battle Creek, MI February 21 through February 25. There will be no charge for this class. If you live in the area and would like to attend, just let me know and I'll send you the details.
EDIT: This class is over. If you missed it, check out my online Weight Loss program. It gives you videos, loads of delicious and slimming recipes, a meal plan, extremely helpful support, and much, much more!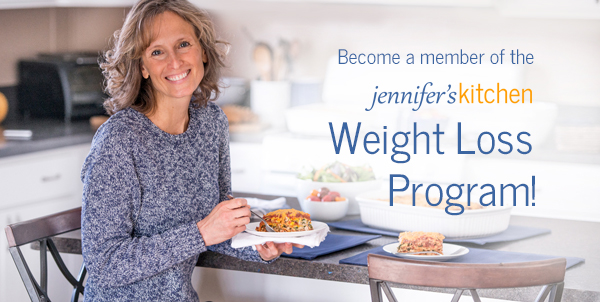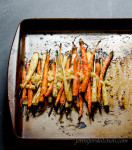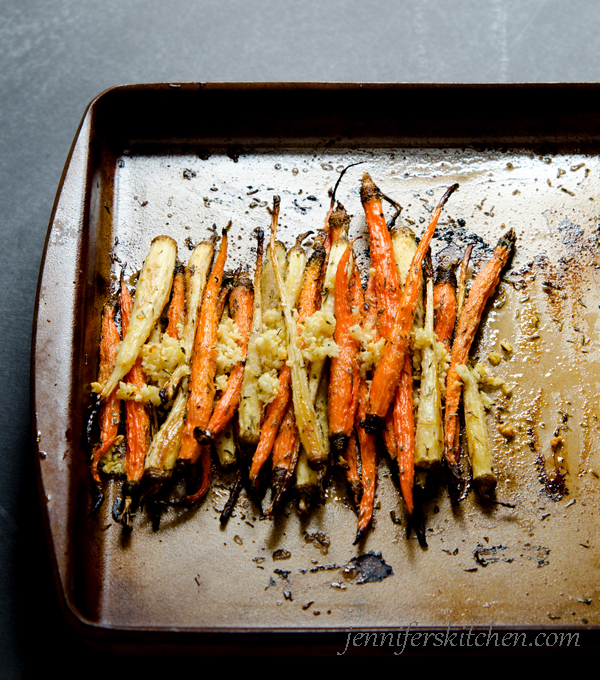 Roasted Carrots and Parsnips
If you don't have small carrots and parsnips, you can cut larger ones lengthwise.
Ingredients
1/2

pound

small, raw carrots

1/2

pound

small, raw parsnips

1

tablespoon

olive oil

1/2

teaspoon

dried oregano

1/2

teaspoon

dried thyme

1

teaspoon

lemon juice

1/2

teaspoon

salt

5

cloves

garlic, minced

1

teaspoon

granulated onion
Instructions
Preheat oven to 425°F.

Wash and peel carrots and parsnips.

Place carrots and parsnips in a shallow baking pan. (I like to use my stoneware for this recipe.)

Drizzle with oil. Sprinkle with oregano, thyme, salt, and lemon juice. Mix well. (I use a flat, metal spatula to mix. Alternatively, you could mix together the ingredients in a bowl, but I avoid this since I'm allergic to dirty dishes.)

Place pan on middle rack of oven and roast at 425°F for 20 minutes.

Remove from oven. Reduce heat to 350°F. Add minced garlic and granulated onion, stir, then return to oven and bake for an additional 25 to 35 minutes or until vegetables are tender.

Actual baking time will depend on the size of the carrots and parsnips. (My vegetables were from 3/8-inch to 5/8-inch in diameter on the fat end.) Watch closely and check for tenderness during the last few minutes of baking.

Serve hot.
>> One quick request: if you like this recipe, please leave a rating and a comment. Ratings help more people find these healthy recipes!
Print Recipe
You my also like:
Before you go . . .
Did you know that you can eat all this delicious food AND lose weight? You can!
No calorie counting. No portion sizes.
Join my online weight loss program today!