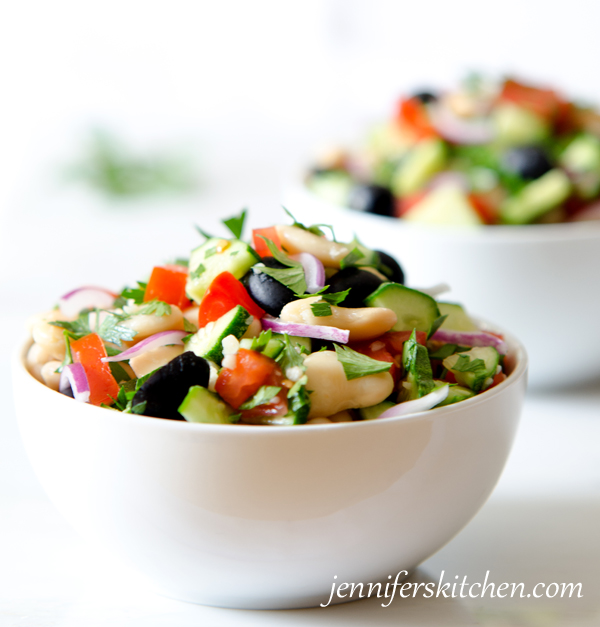 This website is brought to you without annoying ads because we can better live healthier lives without the influence of marketing. But running a high-traffic site is expensive. How can you help? If you purchase anything through the affiliate links on my site, your cost is the same, but I receive a small commission. Thank you!
How to Eat Healthy When You Don't Have Much Time
One of the keys to eating healthy is to have some healthy options prepared ahead of time … or at least have a general plan. Otherwise, when you're hungry and in a rush, it's too easy or tempting to grab something "quick" that usually isn't so healthy.
I try to have a good meal plan at the beginning of my week of what I'm going to be eating that week … or at the very least, a rough idea. However, the last two weeks were really busy for me, and I found myself "winging it" every day.
I can get away with this for a few days by using leftovers, or I often have cooked rice or quinoa in the frig that I can use as a base for a quick meal, or sometimes I have something in my freezer. But this week it eventually caught up with me, and on Wednesday I found myself at lunchtime with nothing to eat and very little time.
Cereal?
Toast?
Bleh.
Another key to eating healthy is to have a stocked pantry (so you have all the ingredients you need when preparing a meal). And in that stocked pantry, include some emergency staples to fall back on.
Taking a peek in my pantry, I discovered I had a can of butter beans, some of my favorite olives, and an onion. My frig offered a cucumber and I grabbed some parsley from the garden. In less than 5 minutes this beautiful salad was sitting before me.  And it was the most delicious dish I'd eaten all week!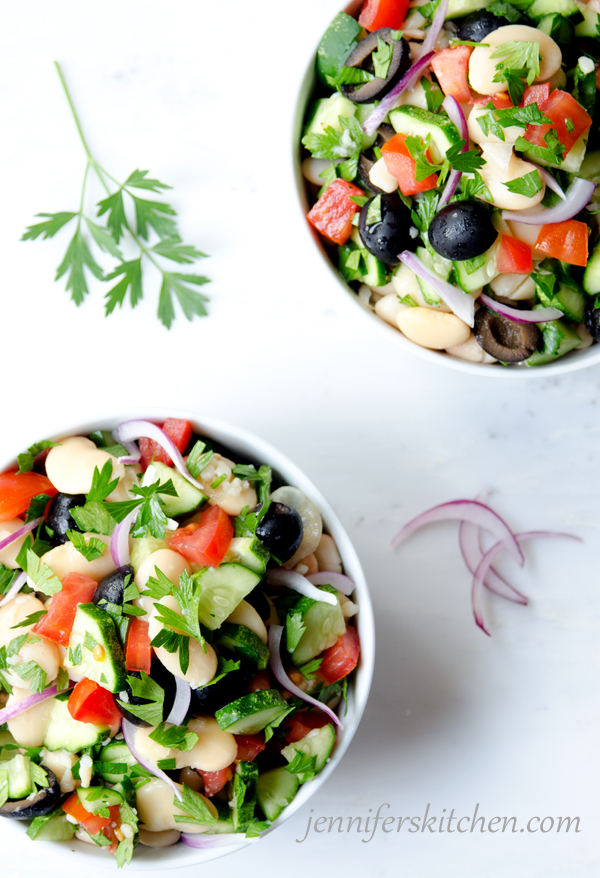 I've since discovered that a diced tomato makes a yummy addition to this salad.
Lunch in 5 Minutes
It took me exactly 4 minutes and 28 seconds to make half of this recipe amount for myself for lunch. With a Veggie Chopper (one of my favorite kitchen tools) you can still make a full recipe or even a double recipe in about 5 minutes.  If cutting vegetables by hand, you may want to add 2 or 3 minutes to the time.
More Fast and Healthy Recipes
If you'd like more recipes that are quick to make and still healthy and good for weight loss, check out my Weight Loss Program, which includes an easy meal plan, daily videos, amazing support, and much more.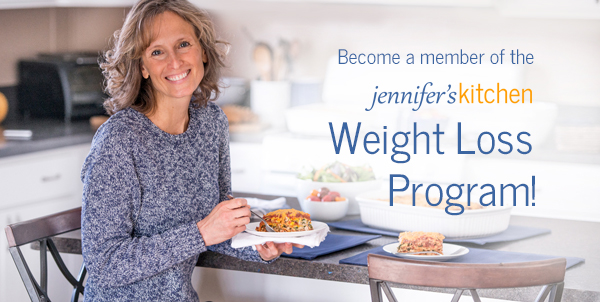 Print
Italian Butterbean Salad
Yield 2 main dish, 4 side dish
Creamy butterbeans pair beautifully with crunchy cucumbers in this quick and easy, full-of-flavor, main dish salad. This recipe can easily be cut in half or doubled.
Serves 2 as a main dish or 4 as a side.
Ingredients
3 cups (two 15-ounce cans) cooked butter beans, drained
2 pickling cucumbers, diced small – see note
1 (6-ounce) can olives (These are my favorite.)
1/3 cup chopped fresh parsley
1/2 large red onion, cut into slivers
1/4 cup lemon juice
1 tablespoon olive oil – optional
2 teaspoons granulated onion
1/2 teaspoon dried basil
1/4 teaspoon dried dill – optional
1/4 teaspoon granulated garlic or 1 to 2 crushed garlic cloves
1/2 teaspoon salt – or to taste
1 ripe tomato, diced
Instructions
Combine all ingredients, except diced tomatoes, and mix well.
Gently stir in tomatoes.
Adjust seasonings to taste. Serve chilled or at room temperature.
Notes
You can use a regular cucumber in this salad, but the pickling cucumbers are crunchier and, in my opinion, taste better in this salad.
Enjoy!
Popular Posts