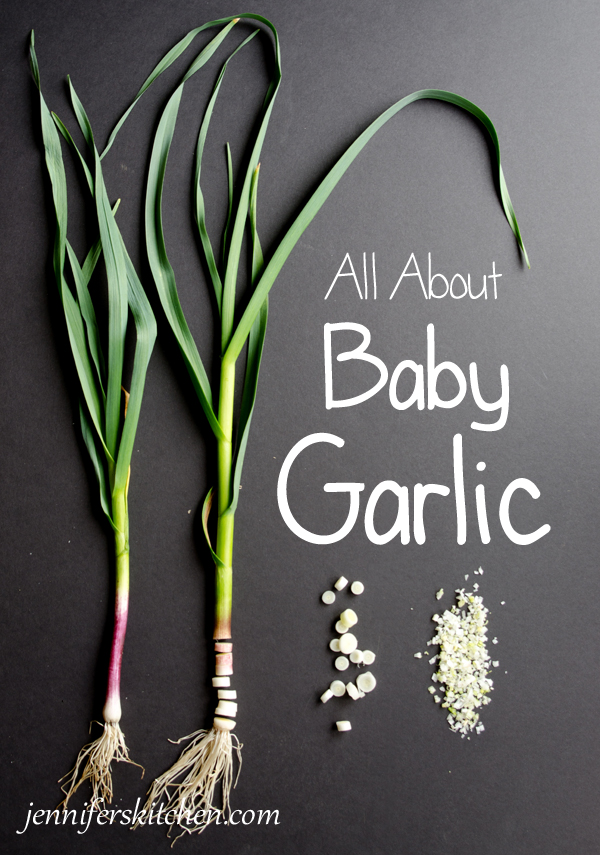 You've probably heard of green onions, but have you ever tried green garlic? Also known as baby garlic, spring garlic, young garlic, and garlic shoots, this luscious springtime treat tastes great with everything you would eat with regular garlic.
What is green garlic?
Baby garlic is immature garlic before it develops into bulbs. It has a much milder and somewhat sweeter flavor than mature garlic, and yet the flavor is rich and complex. Baby garlic is so mild it can be enjoyed raw.
How do I use green garlic?
You can eat green garlic the same way you'd eat mature garlic, but my favorite ways to eat baby garlic is in this Healthy Creamy Italian Salad Dressing.
I also like to sprinkle minced baby garlic over a bowl of slow-cooked beans, mix them in this chickpea salad sandwich, and saute them in this delicious Creamy Spring Soup.
Baby garlic is also good in green salads, pasta salads, in pesto, and on bread.

How do I run a high traffic site without ads? Some of my posts contain affiliate links. If you purchase anything through those links, your cost is the same, but I receive a small commission. Thank you for your help!
How much of the green garlic is edible?
While the entire plant (minus the roots) is edible, I only use the white and light green parts as they are most tender. Usually the tops are too fibrous for my taste.
Where do I get green garlic?
While I've never seen baby garlic in grocery stores, many farmer's markets and CSA's offer fresh green garlic.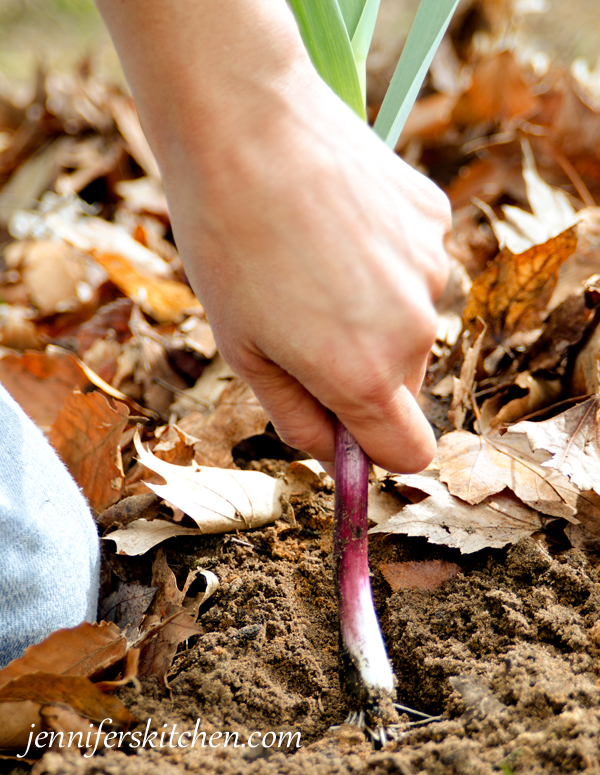 Or you can grow your own! Just plant some cloves of garlic in the fall and come May or June (depending on where you live) you'll have tender baby garlic shoots. If you don't have a garden, you can grow garlic in a container.
And then, of course, if you leave a few plants in the soil and wait a month or two longer, your baby garlic will mature into bulbs to harvest and enjoy in your cooking … or save to plant more garlic for next year.
When is green garlic in season?
Green garlic is available from early spring to early summer.  Baby garlic that's harvested in early spring will be more slender in appearance and milder in flavor than that which is harvested in early summer.
Have you tried baby garlic? How do you like to eat it?
Popular Posts
You my also like:
Before you go . . .
Did you know that you can eat all this delicious food AND lose weight? You can!
No calorie counting. No portion sizes.
Join my online weight loss program today!