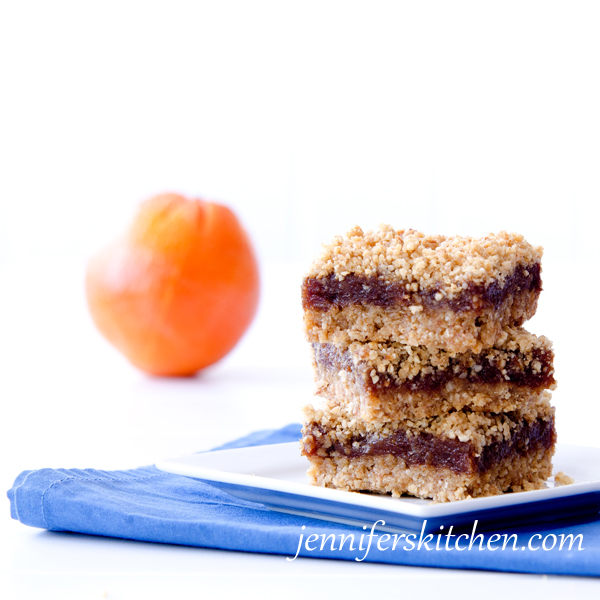 This website is brought to you without annoying ads because we can better live healthier lives without the influence of marketing. But running a high-traffic site is expensive. How can you help? If you purchase anything through the affiliate links on my site, your cost is the same, but I receive a small commission. Thank you!
Looking for a healthy Christmas cookie or bar that everyone will love? (And perfect for those eating gluten-free?)
The holiday season is typically a time of indulgence … which can translate to a time of weight gain as well.  Wouldn't it be great if you could have your dessert and eat it too?
With wholesome ingredients like whole grain oats, raw walnuts, and unsweetened coconut, these date bars give you the richness and sweetness you expect from a Christmas cookie bar without the fattening results – so you can enjoy some holiday yum without the guilt.
What Makes These Dessert Bars Diet-Friendly?
1. Cookies and bars are usually high in sugar.  In this dessert, the sugar has been replaced with naturally sweet dates.
2. Regular cookies and bars rely on oil, butter, or margarine for richness. This bar uses healthy, high-fiber, and nutrient-dense walnuts and coconut for richness.  So you get a rich taste without the hip hugging fat. Nuts have actually been found to help with weight loss.
3. There are no eggs in this holiday bar, which means no cholesterol and fewer calories.
4. These bars are made without baking powder or baking soda – ingredients that contribute to digestive disorders and bone loss.
5. These bars are free of white flour.  Instead they're made with wholesome, high-fiber, whole-grain oats.
Enjoy!
Print
Gluten-Free Date Bars
Dates offer a natural sweetness to these nutrient-packed bars.
Instructions
Place dates and water in a saucepan. Cover and bring to boil. Reduce heat and simmer for 2 minutes or until dates are very soft. Remove from heat and set aside.
Place walnuts, coconut, 1/2 cup quick oats, and salt in the large bowl of a food processor. Process until finely ground. Stop processing if mixture gets sticky.
Add sugar and 1 cup regular or quick oats. If using quick oats, process just until mixed. If using regular oats, process until oats are ground slightly.
Add Earth Balance Butter Spread to mixture and pulse until mixed well.
Press approximately 2/3 to 3/4 of mixture into bottom of an oiled 8-inch x 8-inch baking dish. Transfer remaining mixture to a bowl and set aside.
Pour dates and water into bowl of food processor. Add vanilla and orange zest and process until fairly smooth.
Spread date mixture evenly over crust (oat and walnut mixture).
Sprinkle remaining oat and walnut mixture over dates.
Bake in preheated oven at 350°F for 35 to 40 minutes or until top is lightly browned.
Notes
Sugar amount can be varied depending on your taste and the sweetness of your dates. There are many varieties of dates with varying sweetness. This recipe works best with semi-dry date varieties (such as deglet noor dates).
Wishing you and your family a wonderful holiday season filled with the things that matter most.  🙂
Popular Posts