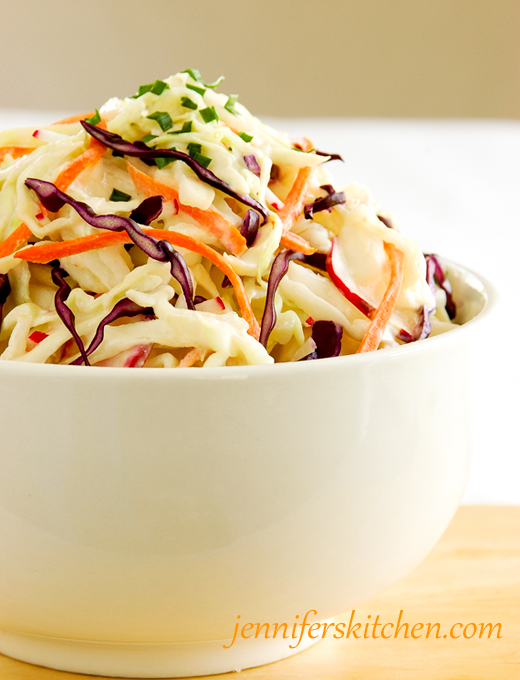 Summer is here and we're lovin' every minute.  Warm summer evenings, swimming in the lake, fresh garden produce … and picnics!  What's summertime without picnics?  And what's a picnic without potato salad, baked beans, and coleslaw?
Creamy, crunchy, fattening coleslaw.
With ingredients like oil, eggs, and high fructose corn syrup, even so-called "light" mayonnaise spells disaster for a weight-loss plan.
A Healthier Coleslaw
This healthier coleslaw has no cholesterol, is a good source of magnesium (which helps protect against diabetes and high blood pressure), and even offers a healthy dose of fiber – which is great for weight loss!
With this luscious, creamy, and rich, mayo-free coleslaw you can still enjoy the picnic fun without the guilt.
Serve this up at your next summer gathering and you'll amaze everyone when you tell them it's not fattening!
Packed Lunch Tip
This fantastic salad makes a great side to a sandwich or baked beans in a packed lunch. Just be sure to keep it cold. We love this insulated cooler to take on picnics.
More Healthy Picnic Recipes
Wants some more healthy, slimming summer picnic recipes? I gotcha covered.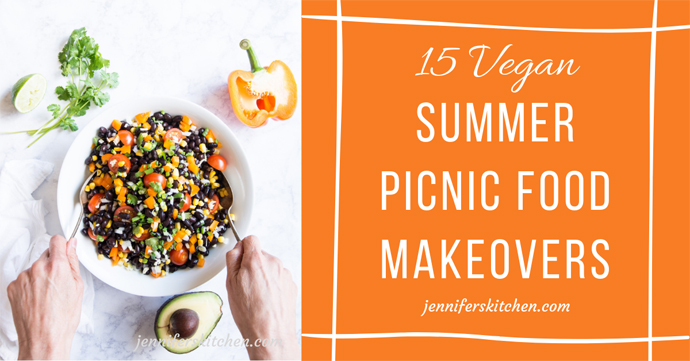 Mayonnaise-Free Coleslaw
Yield 4 to 6 servings
Laden with saturated fat and calories, typical coleslaw is a weight loss disaster. This delicious, vegan, mayo-free coleslaw is a very healthy option and yet is amazingly rich and creamy.
Ingredients
2/3 cup raw cashews
2/3 cup water
2/3 cup mashed silken tofu (see note)
1 teaspoon onion powder or granulated onion
1/2 teaspoon garlic powder or granulated garlic
1 teaspoon salt
1/4 cup lemon juice
1 tablespoon oil
1 tablespoon honey, agave nectar, or other sweetener
5 cups finely shredded cabbage (approximately half medium head)
1 medium carrot, shredded
Instructions
Place cashews in a fine-mesh colander and rinse under hot water. Drain.
Place drained cashews and 2/3 cup water in blender and blend until very smooth and creamy.
Add remaining ingredients, except cabbage and carrots, and blend until smooth.
Shred cabbage and carrot and place in large mixing bowl. Mix blender mixture into shredded cabbage a little at a time until desired consistency is achieved. (If you have extra dressing left over, it can be used as a salad dressing.)
Chill before serving.
Notes
1. Approximately one half of a 13-ounce package of silken tofu equals 2/3 cup.
2. I shred my cabbage with a food processor, and my prep time is as little as 10 to 15 minutes. You can reduce this time even more if you use packaged, pre-shredded veggies.
Variation: Add some purple cabbage and/or sliced radishes to dress up this yummy slaw.
Popular Posts