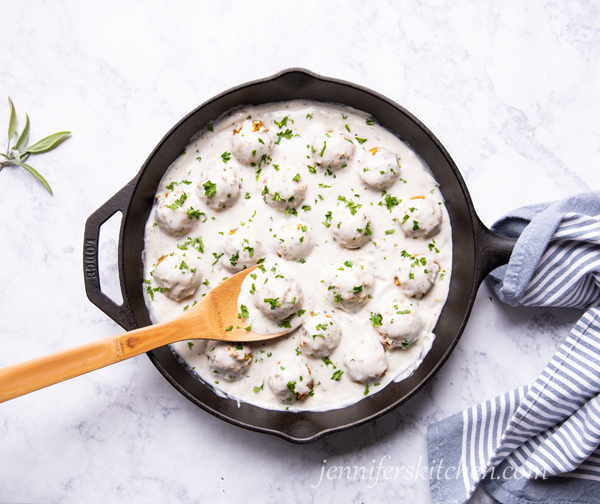 Herb Gravy (Vegan, Gluten-Free, Oil-Free)
Yield 2 1/4 cups
A simple, herb gravy made from healthy, whole-food ingredients
Ingredients
3 tablespoons brown rice flour
1/2  cup raw cashews
2 1/4   cups water - divided (See note)
1 teaspoon salt
2 teaspoon granulated onion   
2 teaspoons dried minced onion
1 teaspoon dried parsley
1/2 teaspoon dried basil
1/2 teaspoon (generous) dried sage
1/4 teaspoon granulated garlic
1/4 teaspoon dried marjoram
1/4 teaspoon (scant) dried oregano
1/8 teaspoon dried rosemary
Instructions
Over medium-low heat, lightly toast flour in a dry pan for about 5 to 8 minutes or until flour becomes very lightly golden. Stir often to ensure even toasting. Set aside to cool.
Place cashews and 1 cup water in blender. Blend until smooth.
Add flour and remaining 1 1/4 cups of water and blend until smooth.
Pour mixture into a saucepan. Whisk in salt and herbs.
Heat over medium-high heat, stirring constantly until gravy comes to a boil and is thickened.  I use a heat-proof spatula for this.
Serve hot.
Notes
This recipe makes a thick gravy. If you prefer a thinner gravy, increase water amount by 1/4 cup.
Make Ahead Tip:
Gravy may be made ahead and refrigerated. It will thicken slightly more when refrigerated. To reheat, place in a saucepan, add a couple tablespoons of water, whisk to combine and then heat slowly, stirring occasionally, until hot.
This gravy can be frozen. When ready to serve, place thawed or partially-thawed gravy in a saucepan and heat over medium heat. Whisk gravy often while heating.
Recipe by JennifersKitchen at https://jenniferskitchen.com/2020/11/herb-gravy-vegan-gluten-free-oil-free.html