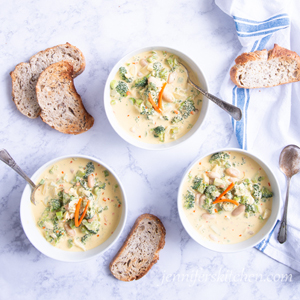 Cheesy Broccoli and Cannellini Bean Soup
You'll be amazed at how delicious and creamy this healthy and slimming soup is.
Ingredients
1/2  medium onion, diced small
1  teaspoon olive oil
2 cloves garlic, minced
1 1/4  cups water (or half water and half broth)
5 - 6 cups chopped broccoli florets (about 12 to 14 ounces or 1 small head broccoli)
1  cup Healthy 5-Minute Cheese Sauce (or more if desired; see note)
1 teaspoon granulated onion
1  pinch dried rosemary
1  pinch dried sage
3/4  cup (half of a 14-ounce can) cannellini beans, lightly drained (not rinsed)
1/2  cup (approximately) water or broth
carrot shreds for garnish – optional
Instructions
Lightly sauté onion in oil over medium heat (about 4 minutes).
Add garlic and sauté for one more minute.
Add 1 1/4 cup water and turn heat to high. Add broccoli, cover, and bring to a boil. When water comes to a boil, stir, reduce heat, cover, and simmer until broccoli is tender but not mushy (about 7 to 8 minutes).
Meanwhile, prepare sauce if not already made.
When broccoli is tender, stir in cheese sauce, seasonings, and beans.
Add enough water or broth to reach desired consistency. Heat until hot.
Serve hot.
Notes
The 5-Minute Cheese Sauce recipe makes about two cups of cheese sauce. You can use the extra as a delicious topping for baked potatoes, or, if desired, you can add more to the soup.
Yield:
Makes 4 to 5 cups of soup. The exact yield will depend on how much broccoli you use, how much cheese sauce you use (step 5), and how much water or broth you add (step 6).
Recipe by JennifersKitchen at https://jenniferskitchen.com/2019/12/cheesy-broccoli-cannellini-bean-soup.html