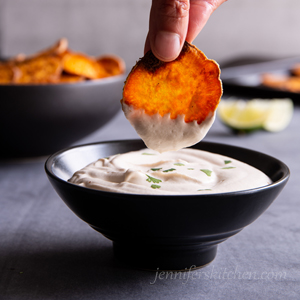 Oil-Free Roasted Sweet Potato Coins with Creamy Lime Dip
These deliciously-seasoned, roasted sweet potatoes are oil-free and irresistibly delicious.
Instructions
Scrub sweet potatoes under running water. (Peeling is optional. I don't peel mine.)
Slice the sweet potatoes into rounds just under 1/4-inch thick.
Put slices in a bowl and cover with cold water. Sprinkle 2 teaspoons of the salt over the top. Gently mix. Allow to soak for 1 hour or up to overnight.
When ready to roast the sweet potatoes, pour the water and sweet potatoes into a colander, and rinse with fresh water.
Pat sweet potato slices dry. (They don't need to be perfectly dry, but excess moisture should be gone.)
Preheat oven to 425°F
Line two large baking sheets with parchment paper. Spray with cooking spray. Set aside.
Place half of the sweet potato rounds into a very large, rimmed baking pan (a very large, wide bowl will also work).
Combine seasonings and starch in a small bowl or container. Dust sliced sweet potatoes with half of the seasoning/starch mix. Mix with hands to distribute starch mixture evenly over sweet potato rounds. The idea is to get a whisper thin coating of the starch on the potatoes, not to cover them in starch. The starch should be barely visible on them.
Distribute sweet potato coins single layer onto parchment paper. Spray tops of sweet potato rounds lightly with cooking spray or a mist of water.
Repeat with remaining sweet potato rounds.
Bake at 425°F for 15 to 25 minutes or until sweet potatoes are soft and beginning to brown. Amount of time depends on your oven and how thick the slices are. Serve hot with Creamy Lime Dip.
Recipe by JennifersKitchen at https://jenniferskitchen.com/2019/10/roasted-sweet-potato-coins-with-creamy-lime-dip.html