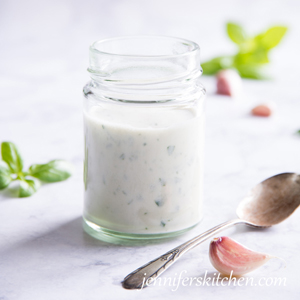 Creamy Fresh Basil Salad Dressing
Yield 1 1/4 cups
Creamy, bright, and wonderfully delicious with little bursts of amazing flavor. This healthy salad dressing is a summertime favorite!
Ingredients
1/3  cup raw cashews
2/3  cup water (or less if you want a thicker dressing)
1/4  cup lemon juice
3/4 teaspoon salt
2 cloves garlic
1/3 cup lightly packed fresh basil leaves and small stems (or up to 1/2 cup if you want a stronger basil flavor)
Instructions
1. Place all ingredients except for basil in blender and blend until very smooth.
2. Add fresh basil and blend until basil is finely chopped.
3. Chill.
Notes
Keeps for about 5 days in the refrigerator.  This dressing tends to separate; stir before using.
Recipe by JennifersKitchen at https://jenniferskitchen.com/2019/08/creamy-fresh-basil-salad-dressing.html