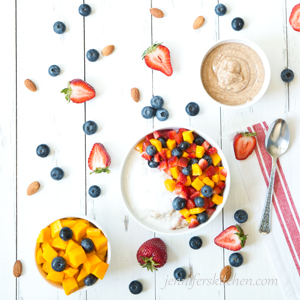 Strawberry Oatmeal
Yield 2 servings
Forget the sugar-filled, instant oatmeal you find at the grocery store. This delicious oatmeal is made from fresh fruit and contains no sugar for a healthy start to your day.
Ingredients
2 cups almond milk
1/4 teaspoon salt, scant
1 heaping tablespoon orange juice concentrate
1 tablespoon almond butter or walnut butter
1 cup quick-cooking oats (Use gluten-free oats if desired.)
1 tablespoon pure maple syrup – optional
1 cup chopped fresh strawberries
1/2 teaspoon vanilla
TOPPINGS
3/4 cup chopped fresh strawberries
1/2 cup chopped almonds
1 small banana, sliced – optional
1/3 cup fresh or frozen mango dices– optional
1/3 cup fresh or frozen blueberries – optional
Instructions
Place milk and salt in a medium saucepan, cover, and begin heating over high heat.
Stir in orange juice concentrate and nut butter. Stir in quick-cooking oats.
Bring to boil. Reduce heat, cover, and cook at a very low boil for 12 minutes, stirring occasionally to prevent oats from sticking to the bottom of the pan. (If you forget to stir and oats do stick, simply turn off the burner for about 5 minutes. Cereal should scrape off the bottom of pan easily now. Resume cooking.)
After 12 minutes, stir in maple syrup (if desired), 1 cup strawberries, and vanilla. Mix well and continue to cook for a minute or two, or until thoroughly heated. Remove from heat.
Spoon into 2 bowls. Top with chopped strawberries, chopped almonds, and other fruit as desired. Serve immediately.
Notes
Makes 2 ¼ cups oatmeal + toppings.
Recipe by JennifersKitchen at https://jenniferskitchen.com/2017/06/strawberry-oatmeal.html