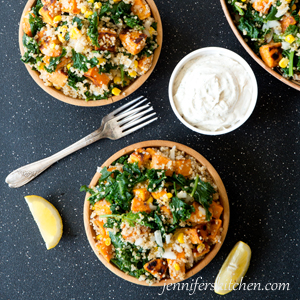 Kale, Sweet Potato, and Quinoa Salad
Yield 2 servings
This hearty salad featuring roasted sweet potatoes and lightly steamed kale is healthy, delicious and beautiful.
Ingredients
2/3 cup uncooked quinoa
1 1/2 cups water
2 medium raw sweet potatoes (about 3 cups diced)
1 - 2 tablespoons olive oil
2 teaspoons granulated onion
1/2 teaspoon granulated garlic
1 teaspoon salt, scant
1 bunch (about 6 ounces) raw kale
1/3 cup water
1/3 cup diced sweet onion
2/3 cup corn kernels – optional
2 tablespoons lemon juice, scant
1/2 cup Creamy Italian Salad Dressing
Instructions
Preheat oven to 425°F.
Cook quinoa. Place water in a saucepan and begin heating over high heat. Add quinoa, cover, and bring to boil. Reduce heat and simmer for 15 minutes or until all water is absorbed.
Roast sweet potatoes. Wash and peel sweet potatoes. Cut into bite-size pieces and mix with oil. Add seasonings and mix.
Distribute single layer on a baking sheet. (I line my baking sheet with parchment paper because it makes cleanup easier.) Bake at 425°F for 20 minutes or until nicely browned on the outside and tender on the inside. (Baking time will vary depending on size of sweet potato pieces.) Remove from oven to cool.
When quinoa is done, transfer to a mixing bowl. Use quinoa pan to steam kale.
Place 1/3 cup water in pan and begin heating. Add chopped kale, cover, and bring to boil. Reduce heat and simmer until tender but not mushy (about 5 minutes).
Remove lid and allow remaining water to evaporate completely.
Mix roasted sweet potatoes, onion, corn, and kale into quinoa. Mix in lemon juice. Serve with dressing.
Recipe by JennifersKitchen at https://jenniferskitchen.com/2016/10/kale-sweet-potato-and-quinoa-salad.html