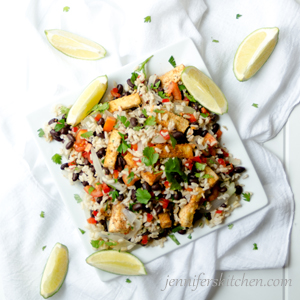 Lime Cilantro Rice with Tofu and Black Beans
Yield 4 servings
This naturally gluten-free dish is so flavorful and filling ... and it tastes fabulous topped with guacamole. Total cook time is 1 hour, but hands-on time is less than 30 minutes.
Ingredients
RICE
1 3/4 cup + 2 tablespoons boiling water
1 cup uncooked brown rice
2 teaspoons granulated onion
1 teaspoon dried oregano
1/2 teaspoon granulated garlic
1/2 teaspoon salt
1/4 cup lime juice
TOFU
1 pound frozen tofu, thawed
2 teaspoons granulated onion
1/2 teaspoon cumin
1/4 teaspoon paprika
1 teaspoon salt
BEANS AND VEGETABLES
2 medium to large onions, diced
1/2 red bell pepper diced
1 tablespoon olive oil
7 cloves garlic, minced or diced small
1/3 cup chopped fresh cilantro
1 cup diced fresh tomatoes
1 1/2 cups (one 15-ounce can) black beans, rinsed and drained
Instructions
Preheat oven to 375°F.
Bring water to boil.
Oil a 1 1/2-quart or 2-quart baking dish. Place rice in dish.
Add seasonings, lime juice, and boiling water.
Cover and bake at 375°F for 60 minutes.
Twenty minutes before rice is done, gently press water out of tofu. Cut into 1/2-inch wide strips or cubes. Place in bowl and stir in seasonings. Place on an oiled baking sheet. (If desired, spritz with oil or cooking spray to help it brown more.)
Place in oven and bake at 375°F for 15 minutes.
In a medium pan, sauté onion and pepper in oil over medium heat until onions begin to look translucent (about 7 minutes).
Meanwhile, chop cilantro and tomatoes. Rinse and drain beans.
Add garlic to onions and sauté for 1 additional minute. Add tomatoes and beans and remove from heat.
Stir vegetable mixture into cooked rice. Add cilantro and tofu.
Recipe by JennifersKitchen at https://jenniferskitchen.com/2015/09/lime-cilantro-rice-with-tofu-and-black-beans.html