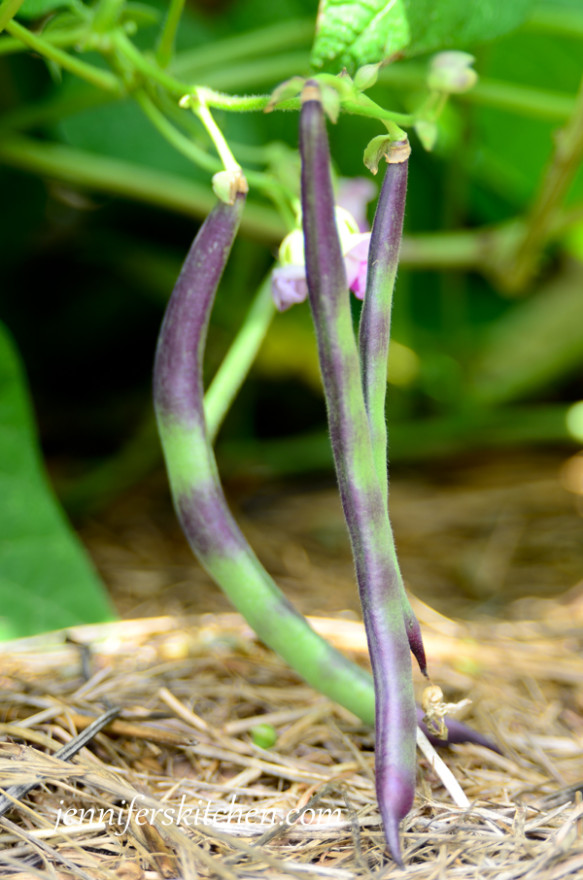 This website is brought to you without annoying ads because we can better live healthier lives without the influence of marketing. But running a high-traffic site is expensive. How can you help? If you purchase anything through the affiliate links on my site, your cost is the same, but I receive a small commission. Thank you!
These are the beautiful Rattlesnake Green Beans growing in our garden right now.  Rattlesnake Beans are tasty pole beans known for their gorgeous streaks of purple on their dark green pods. They lose their pretty purple when cooked ( 🙁 ) but the flavor is still luscious.
My green bean row is producing very well this year. I've picked a large bowlful of them every other day.
Which means I can eat lots of these delicious Green Beans with Garlic and Pistachios. Five times last week, to be exact. No complaints. 🙂 They are really, really good.
The pistachios in this dish make it extra filling – so filling that one day last week when I was pressed for time I had a big plate of these beans and some bread for lunch,  and it stuck with me for several hours.  But the best way to eat this dish is with some fresh, little yellow potatoes.  It also pairs well with pasta dishes, like lasagna or spaghetti.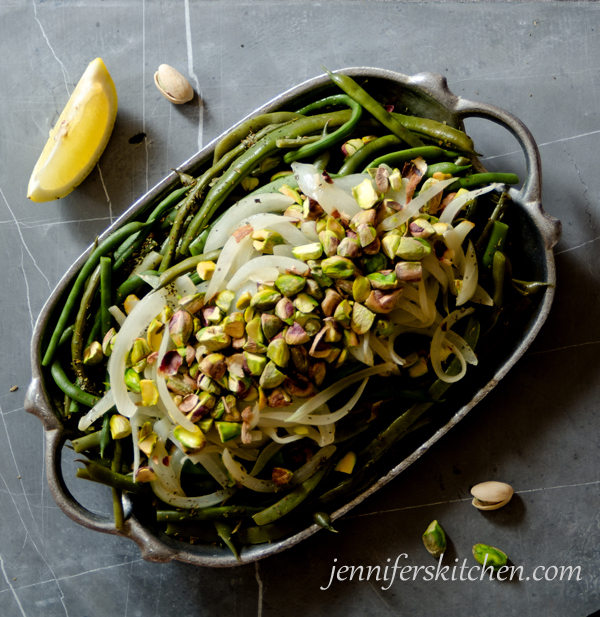 Where to Buy Pistachios
Pistachios can be found in some major grocery stores or from Amazon.  You can purchase them in the shell and shell them yourself (no nutcracker required – they're very easy to shell and can be opened with your hands) or you can get them already shelled.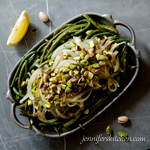 Print
Green Beans with Garlic and Pistachios
Yield 4 servings
Tender green beans combined with the deep flavor of fresh garlic and the healthy crunch of roasted pistachios.
Ingredients
1 large yellow onion or sweet onion, diced
1 tablespoon olive oil
3 - 6 cloves garlic, minced
2 tablespoons fresh, minced parsley – optional
1 pound of fresh (snipped) raw green beans (about 6 cups)
1/2 cup water or broth (approximately)
1 teaspoon granulated onion
3/4 teaspoon dried oregano
1/2 teaspoon dried basil
3/4 teaspoon salt, or to taste
1 cup shelled, roasted, and salted pistachios nuts
lemon wedges
Instructions
In a large pan, sauté onion in oil over medium heat until onions begin to look translucent.
Add garlic (and parsley if using) and sauté for one more minute.
Transfer onion mixture to a plate or bowl.
Add green beans to pan and sauté for two minutes.
Add water (or broth) and seasonings to pan. Cover and bring to boil. Reduce heat to a very low boil and allow beans to cook until tender. (This will take about 10 minutes, but time will vary depending on the variety, age, and size of green beans and depending on your personal preferences.)
When beans are tender, transfer to a serving dish, and season to taste.
(If pistachios have salt on them, don't add too much salt to beans.)
Top with onion mixture and then chopped pistachios.
Serve with lemon wedges to squeeze fresh lemon juice on beans to taste.
Popular Posts