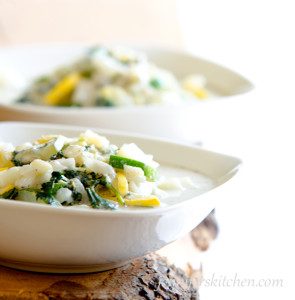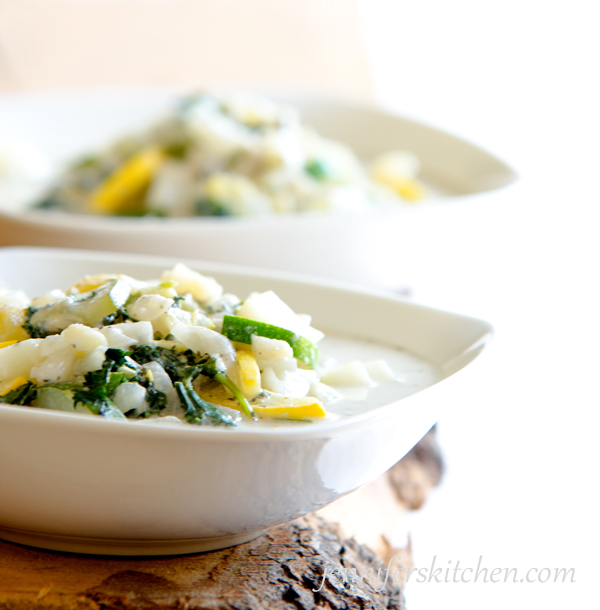 Creamy Spring Soup
Yield 4 servings
This lightened-up soup highlights some of spring's fresh and delicious vegetables.
Ingredients
2 medium yellow onions, diced
1 tablespoon olive oil
2 cups diced zucchini
2 medium yellow summer squash, diced small
1/2 cup raw cashews
3 cups water – divided
2 1/2 teaspoons granulated onion
1 teaspoon salt
2 medium OR 3 small potatoes, peeled (if desired) and diced
6 cloves garlic, minced
1 teaspoon dried basil
1 teaspoon dried parsley
1/4 teaspoon dried oregano
1/8 teaspoon dried ground rosemary
2 cups (packed) chopped fresh kale
Instructions
Wash and cut vegetables.
In a large soup pot, sauté onions in oil over medium (not high) heat for 5 minutes. Onions should not brown; they should just begin to turn translucent.
Meanwhile, place cashews, 1 cup water, granulated onion, and salt, in blender and blend until very smooth. (A heavy-duty blender works best for this recipe; other blenders may not get the mixture smooth enough.) Set aside.
Add zucchini and summer squash to soup pot and continue to sauté for 3 minutes.
Add garlic and potatoes and sauté for one additional minute.
Pour remaining 2 cups water into pot and turn heat to high.
Stir in herbs and kale.
Cover pot and bring to boil. Reduce heat and simmer until potatoes are tender, about 6 to 8 minutes.
Stir in blender mixture. Serve hot.
Notes
I like to sprinkle some Herbamare in this soup before serving.
Recipe by JennifersKitchen at https://jenniferskitchen.com/2015/05/creamy-spring-soup.html