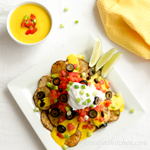 Healthy Potato Nachos
Yield 4 servings
These amazing Potato Nachos are not only gluten-free, vegan, and good-for-you, but they are also absolutely scrumptious!!
Ingredients
POTATOES
2 pounds russet potatoes (about 4 medium), scrubbed or peeled
1 tablespoon olive oil
2 teaspoons granulated onion
1 teaspoon dried basil
1 teaspoon dried oregano
1/2 teaspoon paprika
1/4 teaspoon granulated garlic
1/4 teaspoon cumin – optional
3/4 teaspoon salt, scant
TOPPINGS
Instructions
Cut potatoes into slices approximately 1/4 inch thick. (I recommend using a food processor to slice potatoes quickly and ensure slices are all the same size, which helps them bake evenly.)
Place in a large bowl or gallon-size Ziploc bag.
Drizzle olive oil over potatoes and mix well. Add seasonings and mix thoroughly.
Line two large baking sheets with parchment paper and lightly oil. Place potatoes single layer on baking sheets. (It's okay if some of the potatoes overlap slightly.)
Bake at 400°F for 35 minutes or until potatoes are nicely browned. (Baking time will vary depending on the thickness of the potatoes.)
Meanwhile, prepare toppings. Serve hot potatoes topped with cheese sauce, vegetables, and then sour cream.
Notes
See notes in post above this recipe.
Recipe by JennifersKitchen at https://jenniferskitchen.com/2015/04/healthy-potato-nachos.html