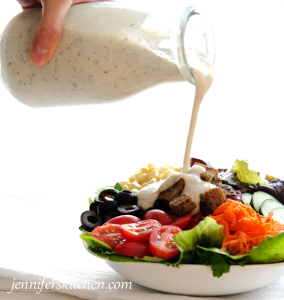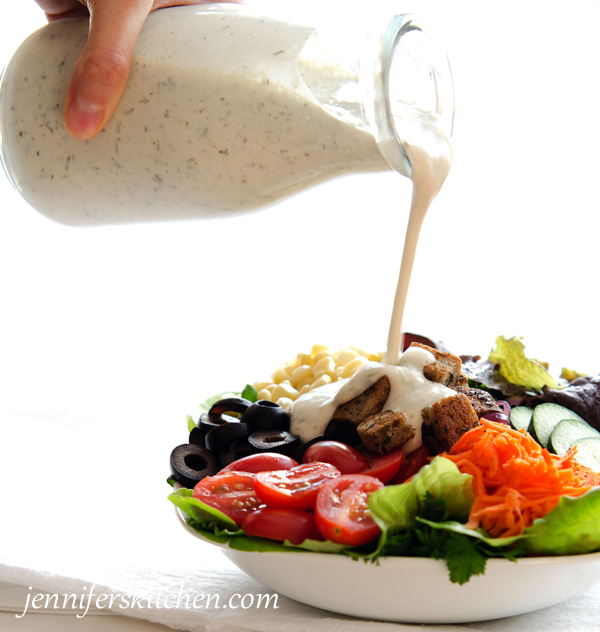 Vegan Ranch Dressing
Yield 2 1/2 cups
A super-healthy, nut-free, soy-free, vegan ranch dressing.
Ingredients
2/3 cups raw sunflower seeds
1/3 cup lemon juice
2/3 cup water
1/2 cup non-dairy milk (I like almond milk, but if you want this to be nut-free, use another non-dairy milk.)
2 tablespoons olive oil
1/2 teaspoon salt
1/2 teaspoon raw sugar (such as turbinado sugar)
1 teaspoon granulated onion
1/4 teaspoon granulated garlic
1 tablespoon dried parsley
1 tablespoon dried dill weed
1 teaspoon dried chives
1 teaspoon dried minced onion
Instructions
Place all ingredients except parsley, dill, chives, and dried minced onion in blender. Blend until very smooth and creamy.
Scrape down sides of blender, replace lid, and blend again. A heavy-duty blender works best to get the sunflower seeds smooth and creamy. Other blenders tend to leave a little bit of graininess in the dressing.
Add remaining ingredients and pulse just until mixed.
Chill before serving. (This will thicken slightly in the frig.) Keeps in the frig for about 5 days.
Recipe by JennifersKitchen at https://jenniferskitchen.com/2014/12/vegan-ranch-dressing.html