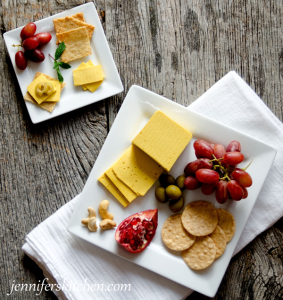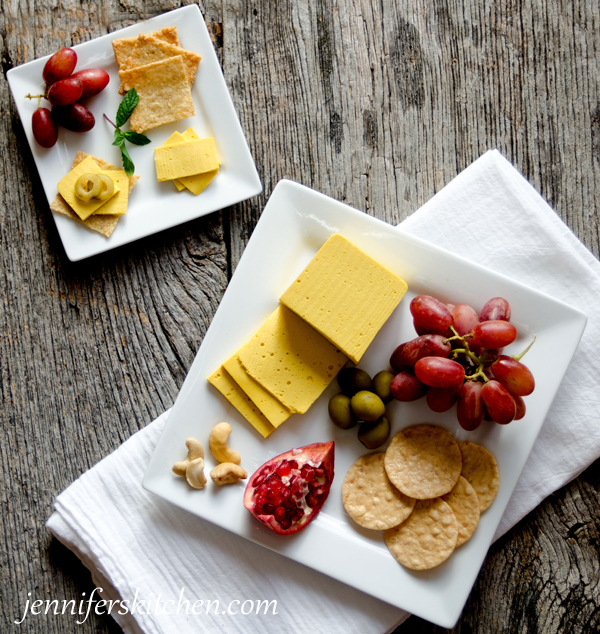 Sliceable Vegan Cheese
Yield 5-inch x 3-inch x 3-inch block of cheese
Don't attempt to make half a recipe; the smaller amount won't blend well in the blender jar.
Instructions
Place all ingredients, except 1 cup water and agar, in blender and blend until smooth.
Scrape down sides of blender with a spatula and blend again on high speed until mixture is very, very smooth and creamy. (I recommend using a high-quality blender to get the mixture very smooth and creamy.) Set aside.
In a small saucepan, stir agar into 1 cup water. Cover, and heat over medium-high heat until boiling. Reduce heat and simmer for 60 seconds. Remove from heat.
Immediately pour agar mixture into ingredients in blender and blend until thoroughly combined. Scrape pan with a spatula to get all the agar mixture.
Promptly pour mixture into an oiled dish and refrigerate until chilled and set.
Notes
If using a heavy-duty blender, the carrot in this recipe can be placed in the blender jar whole. No need to slice it.
Recipe by JennifersKitchen at https://jenniferskitchen.com/2014/12/sliceable-vegan-cheese.html