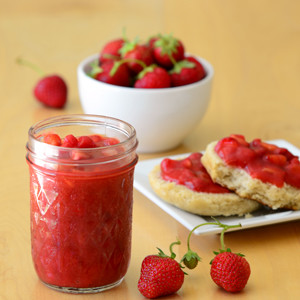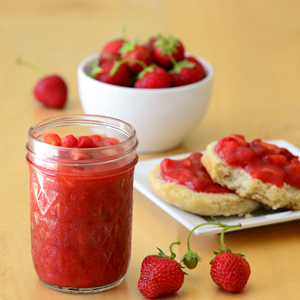 Sugar-Free, Fresh Strawberry Jam
Sugar free. 3 ingredients.
Ingredients
2 3/4 cups fresh strawberries (tops removed) – divided
1/3 cup water or grape juice
1/2 cup dried pineapple dices
Instructions
Place water or grape juice and dried pineapple in a small saucepan. Cover and bring to boil. Reduce heat and simmer for 7 minutes. Remove from heat and allow to set for 5 minutes (covered).
Drain water or juice from pineapple.
Place 1 3/4 cup strawberries and pineapple in blender and blend on high speed until very smooth. A high-performance blender works best for this.
Mash or dice remaining 1 cup of strawberries and stir into blender mixture. Chill before serving.
Keeps in refrigerator for about 8 to 10 days.
Recipe by JennifersKitchen at https://jenniferskitchen.com/2014/06/sugar-free-fresh-strawberry-jam.html