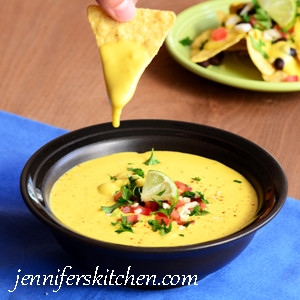 Healthy Cheese-Like Sauce
Instructions
Place 1 cup water and next 7 ingredients (cashews through tahini) in blender and blend until very, very smooth. (A high-powered blender works best for this.)
Add oil and blend well.
Add tapioca starch or corn starch. Blend until well mixed.
Pour into medium/large sauce pan. Rinse blender with remaining 1 3/4 cups water and add to sauce pan.
Bring to boil over medium/high heat, stirring constantly, until mixture is thick and bubbly.
Remove from heat.
Serve warm or chilled.
Recipe by JennifersKitchen at https://jenniferskitchen.com/2014/04/healthy-cheese-sauce.html