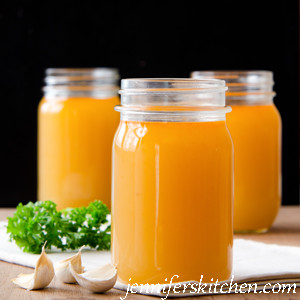 Homemade (Vegan) Stock/Broth
Homemade vegetable stock/broth is so much better than store bought and it freezes beautifully so you have it on hand whenever you need it. Perfect for soups, rice, and more. This recipe is just a guideline. Adjust vegetable and herb amounts according to taste and what you have on hand. Click here for an A-to-Z Guide of Vegetables for Stock/Broth.
Ingredients
2 large yellow onions or sweet onions, diced
2 medium carrots, diced or sliced
2 stalks celery, diced or sliced
2 tablespoons olive oil
3 cloves garlic, cut into very small pieces
1/2 cup fresh parsley, chopped
2 cups clean vegetable scraps - optional
1/3 cup diced tomatoes (fresh or canned) or 1 tablespoon tomato paste
11 - 13 cups cold water
1 bay leaf
1 sprig fresh thyme
1/2 teaspoon salt – or to taste
Instructions
In a soup pot, sauté onion, carrots, and celery in oil over low to medium heat until onions begin to look translucent. If vegetables are beginning to stick to pan, add more oil or a tablespoon or so of water. Continue cooking until onions begin to brown. Stir often.
Once onions are lightly browned, add garlic and sauté for 1 additional minute.
Add remaining ingredients, except dulse or nori, thyme, and salt, and slowly bring to just under the boiling point over medium heat. (Adjust heat depending on your stove. The key is to slowly heat the mixture to ensure optimal flavor extraction from vegetables.)
Reduce heat and simmer for approximately one hour.
Add dulse or nori and thyme in the last 20 minutes of simmering.
Add salt to taste.
Remove from heat and allow to cool slightly.
Strain through a fine mesh strainer or cheesecloth. Keeps in refrigerator for 3 to 4 days or in freezer for several months.
Notes
Add a chopped parsnip or a leek if desired.
Recipe by JennifersKitchen at https://jenniferskitchen.com/2014/02/how-to-make-homemade-vegetable-stock-or-broth.html