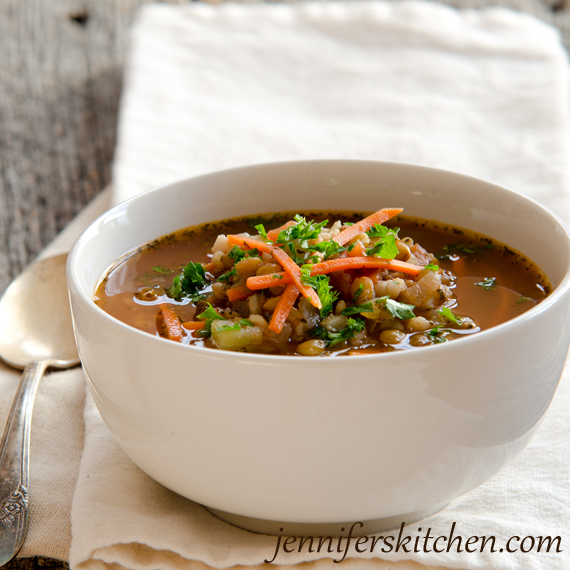 This website is brought to you without annoying ads because we can better live healthier lives without the influence of marketing. But running a high-traffic site is expensive. How can you help? If you purchase anything through the affiliate links on my site, your cost is the same, but I receive a small commission. Thank you!
Lentils.  Beauty queens, they are not.  But what they lack in pulchritude they sure make up for in taste, versatility, and nutrition.
One of my favorite ways to eat lentils is in soup.  Actually, my favorite way to eat just about anything is in soup.  Who doesn't love soup?  Homemade soup is like a favorite soft sweater.  It's warm and cozy and fits just right for almost any occasion.
This lentil soup is one the most diet-friendly soups around.  High in fiber and low in fat, lentils are a natural weight-loss food.
This recipe makes a big pot of soup.  If it's just you, or if you're going away on vacation tomorrow, or if your best friend borrowed your only big pan, you may want to make only half of a batch.  Otherwise, catch a vision of the beauty of leftovers. Cook once, eat all week without effort.
I sometimes like to use shredded carrots in this soup instead of diced carrots.  If you use shredded carrots, wait and add them when you add the garlic.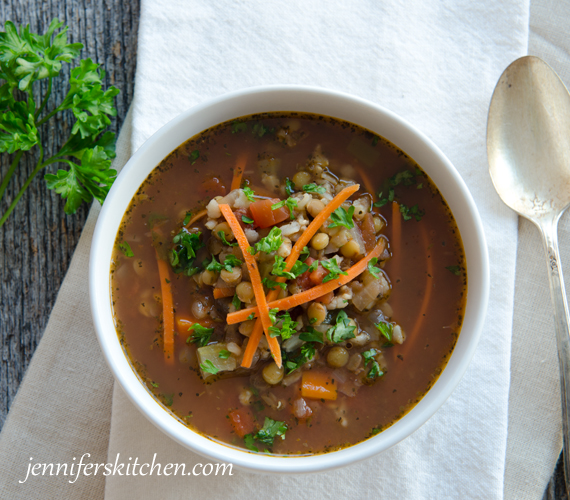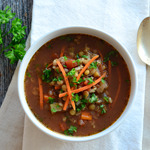 Print
Italian Lentil Vegetable Soup
The seasoning measurements in this nourishing soup may seem like a lot, but they're not a typo. The flavor is delish.
Ingredients
2 tablespoons olive oil
3 stalks celery, sliced or diced
2 medium carrots, sliced, diced, or julienned (see note)
1 medium onion, diced
2 - 3 cloves garlic, minced
1 cup uncooked lentils
1/2 cup uncooked long-grain brown rice
8 cups water or broth
2 tablespoons fresh minced parsley
1 tablespoon + 1 teaspoon granulated onion
1 tablespoon + 1/2 teaspoon dried oregano
1 tablespoon dried basil
1 1/2 cups (one 14-ounce can) diced tomatoes (I like petite diced tomatoes)
1 1/2 cups (one 14-ounce can) tomato puree
1 tablespoon lemon juice
1 tablespoon honey or other sweetener
1 1/2 teaspoons salt – or to taste
Instructions
In a soup pan, sauté celery, carrots, and onion in oil over medium heat until onions begin to look translucent (about 6 to 8 minutes).
Add garlic and sauté for 1 additional minute.
Meanwhile, rinse lentils in colander under running water. Set aside to drain.
Add 8 cups water (or broth), rice, and rinsed lentils to pan. Turn heat to high.
Add seasonings. Cover and bring to boil.
Reduce heat and simmer for 20 minutes.
Add tomatoes and tomato puree, return to boil, then reduce heat and continue to simmer, uncovered, for 20 minutes or until lentils and rice are tender.Note: All stoves cook differently, so be sure to test the lentils to see if they are done.
Add lemon juice and sweetener and season with salt to taste.Serve hot.
Notes
I use my julienne peeler to cut the carrots. It makes the prettiest carrots in just a few seconds!
This soup tastes even better the next day.
Even though I've categorized this recipe under "Freezes Well", the rice does break down slightly after being frozen. But it still tastes good.
Popular Posts