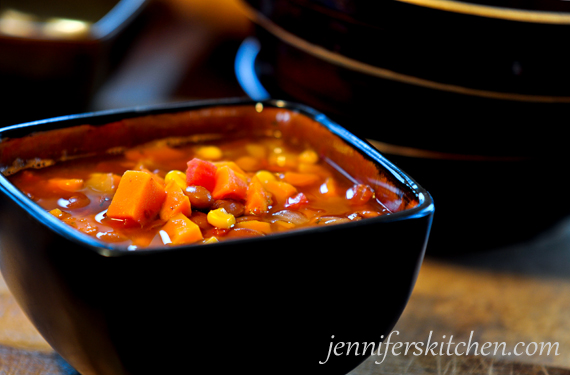 Porotos Granados is a light summer soup popular in the country of Chile that embraces the fresh summer harvest of cranberry beans, corn, tomatoes, and squash, which are all indigenous to Chile and available in abundance in the late summer months.
With all the wonderful, garden-fresh corn, tomatoes, and squash this time of year, I thought Chilean Porotos Granados the perfect dish.
The typical squash of Chile are much larger than those grown in the average American garden. Since I didn't have any 20-pounders handy, I used butternut squash in this recipe, because it's similar in taste and texture to the giants grown in Chile.
Beans are a very common food in this South American country. In fact, there's even a saying there that goes something like, "just as Chilean as beans".
Cranberry beans are the legumes traditionally used in this luscious stew. In fact, I think that "porotos grandados" means shelling cranberry beans. (Any Chileans reading?)
** Edit: Apparently, there was at least one Chilean reading. Please see the first comment below for what Granados really means. 🙂 Thank you, Ignacio!
Chileans use fresh, rather than dried beans to make Porotos Granados. Since I didn't have fresh cranberry beans (and I've never even been to Chile), my rendition can't technically be called traditional Chilean Porotos Granados. But it still tastes fabulous!! I hope you enjoy!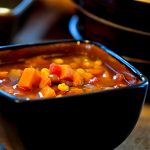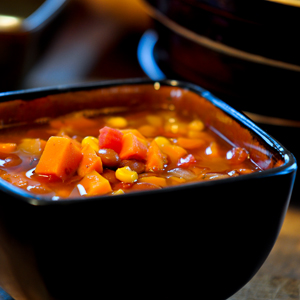 Chilean Porotos Granados
Porotos Granados is a popular dish from Chile. It's served in late summer when cranberry beans and squash are fresh.
Ingredients
1

medium

yellow onion, diced

2

tablespoons

olive oil

2

cloves

garlic, minced

1 1/2

cups

canned or fresh diced tomatoes

1

teaspoon

dried oregano

1

teaspoon

granulated onion

1/2

teaspoon

dried basil

-

or 1/2 tablespoon chopped fresh basil

1/2

teaspoon

cumin

1/4

teaspoon

sweet paprika

1

medium

butternut squash, peeled and diced

-

(about 3 cups)

3

cups

water - or vegetable stock or broth

2

cups

cooked cranberry beans -

See note.

1 1/2

cups

organic corn kernels

1

teaspoon

salt

-

or to taste
Instructions
In a large soup pan, sauté onion in oil over medium heat until they begin to look translucent.

Add garlic and sauté for 1 additional minute.

Stir in tomatoes and seasonings and continue cooking for another 5 to 10 minutes, stirring often.

Meanwhile, peel squash. Remove seeds and cut into 1-inch cubes (approximately).

Stir in cubed squash, water (or vegetable stock or broth), and beans. Bring to boil, then reduce heat, and simmer, uncovered, for 30 minutes or until squash is very soft and has begun to fall apart.

Add corn and salt to taste. Cook until heated through.

Serve hot.
Notes
1. If you don't have cranberry beans, you can get them here. (It's worth it!!). Or you can use red beans, or pinto beans.
2. If you like a more tomato-y soup, increase diced tomatoes to 1 1/2 cups.
>> One quick request: if you like this recipe, please leave a rating and a comment. Ratings help more people find these healthy recipes!
Print Recipe
Want More?
For more healthy and delicious recipes like this one that will simplify your journey to a healthier and thinner you, check out my
Healthy Weight Loss Program!

You my also like:
Before you go . . .
Did you know that you can eat all this delicious food AND lose weight? You can!
No calorie counting. No portion sizes.
Join my online weight loss program today!