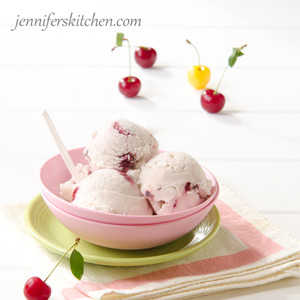 Cherry Vanilla Non-Dairy Ice Cream
Yield 1 1/2 qt.
What could be better than fresh, creamy, homemade ice cream? How about one that is much lower in saturated fat and refined sweeteners, and is made with wholesome ingredients?
Instructions
Place coconut milk, sugar, salt, and about half of the rice milk in a medium saucepan and bring to boil.
Meanwhile, stir starch into remaining rice milk and mix until completely smooth. Be sure there are no lumps.
When mixture in saucepan comes to a low boil, stir in starch mixture. Bring to a full, rolling boil, stirring constantly with a heat-proof spatula. Remove from heat.
Place mixture in refrigerator to cool (at least 3 hours, but preferably overnight).
When mixture is thoroughly chilled, stir in vanilla.
Pour chilled mixture into a 1 1/2- to 2-quart ice cream maker and freeze according to manufacturer's directions.
When ice cream is done churning, stir in cherries.
Notes
You can chill the mixture in the freezer rather than the refrigerator; just be sure to stir it occasionally so it doesn't freeze solid around the edges.
Please see additional notes below this recipe.
Recipe by JennifersKitchen at https://jenniferskitchen.com/2013/07/cherry-vanilla-non-dairy-ice-cream.html