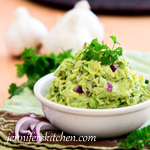 Simply Delicious Guacamole
Simply delicious guacamole.
Ingredients
1/4 small to medium red onion, diced
1 small clove garlic, crushed
1 tablespoon lime juice - or to taste
3 tablespoons fresh chopped cilantro
1/2 teaspoon salt
2 medium avocados, peeled and pit removed
Instructions
Dice onion and place in mixing bowl.
Crush garlic using a garlic press and place in mixing bowl with the onion.
Add lime juice, cilantro, and salt to bowl.
Add avocado and mash with a fork. Guacamole should have some lumps left; it should not be perfectly smooth.
Add more lime juice to taste if desired.

Serve immediately.
Notes
Be sure to use very ripe avocado for the best tasting guacamole.
Recipe by JennifersKitchen at https://jenniferskitchen.com/2013/03/simply-delicious-tomato-free-guacamole.html