Sort-of-Like Caramel Apple Dip
So there's nothing the least bit healthy about caramel. I probably don't have to tell you that.
White sugar. Butter. Cream.
That's pretty much it.
No redeeming qualities whatsoever … except maybe that it tastes awesome ; )
I really like apples dipped in caramel. But all that sugar, butter, and cream.
A Healthier Alternative to Caramel Apple Dip
So here's a dip that isn't quite the real deal but tastes wonderful nonetheless. And it can definitely satisfy a caramel apple dip craving any day.
Instead of white sugar, I use raw sugar or evaporated cane juice. These sweeteners are a little less refined than white sugar. Instead of cream, I use rice milk (or another non-dairy milk) – less fattening and better for you overall. Omitting the butter altogether means there are no refined fats in this recipe, and the total fat content is lower. I use almond butter for creaminess, and this adds some fiber to the dip as well.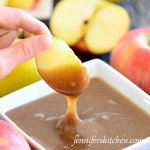 Sort-of-Like Caramel Apple Dip (A Healthier Caramel Apple Dip)
Regular caramel is loaded with white sugar and has absolutely no fiber. This dip is not only lower in sugar, but offers some fiber and nutrition as well.
Instructions
Place milk and almond butter into

blender

and blend on high speed until very smooth.

Pour this mixture into a heavy-bottomed 2- or 3-quart pan, and stir in sugar.

Bring to a full, rolling boil, stirring often. I use my

heat-proof spatula

to stir because it really helps prevent scorching.

Reduce heat slightly and, stirring almost constantly, cook at a boil for 3 to 4 minutes if using coconut milk or 9 to 10 minutes if using other non-dairy milk. (Begin timing when the mixture comes to a full boil.) The caramel should begin to take on a somewhat different texture as it nears the end of the cooking time. It will be slightly thicker and a little "stretchy". Again, the mixture will only be a little bit thicker; it will still be very thin and will thicken a lot as it cools. The longer the cooking time the thicker the dip will be.

Remove from heat and stir in remaining ingredients.

Allow to cool on counter top. It will take a couple of hours to completely cool and thicken.
Notes
1. It's important that the milk be blended with the almond butter on high speed or the almond butter will give a gritty texture to the dip.
2. The molasses is optional, but it makes this dip taste super scrumptious!
>> One quick request: if you like this recipe, please leave a rating and a comment. Ratings help more people find these healthy recipes!
Print Recipe
Want More?
For more healthy and delicious recipes like this one that will simplify your journey to a healthier and thinner you, check out my
Healthy Weight Loss Program!
You my also like:
Before you go . . .
Did you know that you can eat all this delicious food AND lose weight? You can!
No calorie counting. No portion sizes.
Join my online weight loss program today!