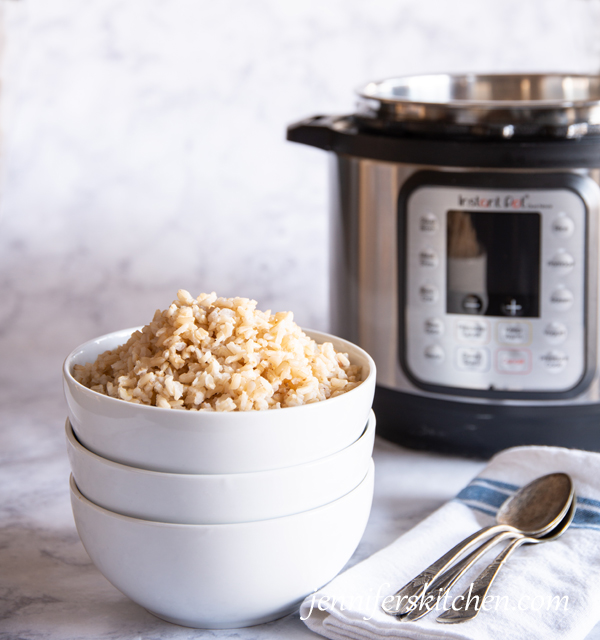 Perfect Instant Pot Brown Rice
Yield 6 cups
The nearly effortless way to cook brown rice and have it hot and ready precisely when you want to serve it.
Instructions
Place brown rice in Instant Pot. Add water. Give it a quick stir to make sure there are not rice grains floating on the top of the water.
Close Instant Pot lid.
Turn the steam release valve to the sealing position.
Depending on your Instant Pot model, use either the Pressure Cook or Manual button (not the rice setting) to set your cook time for 24 minutes.
After the cook time ends, allow the pressure to release naturally.
Remove lid and allow to steam off for 1 minute then fluff gently with a fork.
One quick request: if you like this recipe, please leave a rating and a comment. Ratings help more people find these healthy recipes!
Notes
The amount of water can be adjusted depending on the desired texture of the rice. If you would like your rice to be a little softer, add 2 tablespoons more water.
Also, the larger Instant Pots seem to lose a little more steam than the 3-quart travel size Instant Pot. So if you are using a large Instant Pot, add 1 to 2 tablespoons water.
* * * This Recipe for How to Cook Brown Rice in an Instant Pot is … gluten-free, plant based, oil-free, sugar-free, high in fiber, dairy free, egg-free, vegetarian, vegan, and made from real, whole foods.
Recipe by JennifersKitchen at https://jenniferskitchen.com/2022/03/how-to-cook-brown-rice-in-an-instant-pot.html