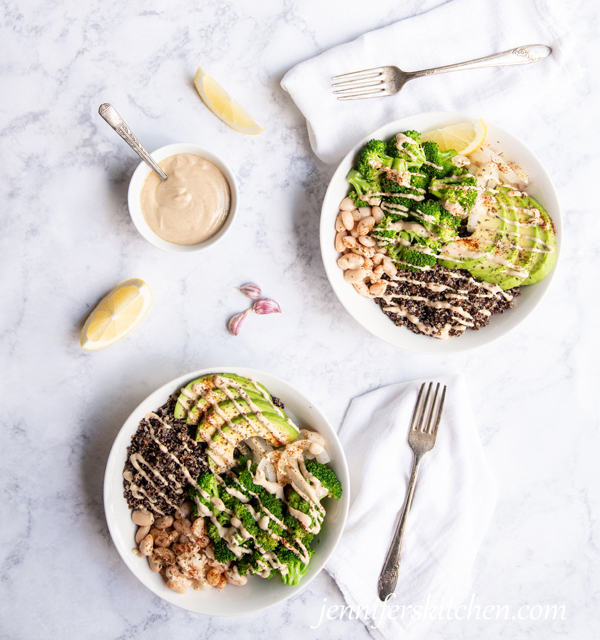 The Broccoli Bowl
Yield 2 servings
The Broccoli Bowl is a simple, one-bowl meal packed with plant-based protein, a good dose of calcium and antioxidants, and loads of flavor - all topped with a deliciously creamy sauce.
Ingredients
The Bowl
1 cup sweet onion, cut in half then sliced
4 cups raw broccoli florets
1/2 cup water
2 cups cooked brown rice or quinoa - See notes.
1/2 teaspoon granulated onion
1/4 teaspoon salt, scant
1/8 teaspoon dried basil
1/8 teaspoon granulated garlic
1/8 teaspoon sweet paprika
1 small avocado
3/4 cup cooked white beans, drained but not rinsed
The Sauce
1/4 cup tahini
1/4 cup lemon juice
1-2 tablespoons water
2 cloves garlic, crushed
1/2 teaspoon granulated onion
1/4 teaspoon salt
Instructions
Prepare Bowl Ingredients
1. In a medium saucepan, saute onions over medium/low heat for 6 to 8 minutes. (You can use a tablespoon or so of olive oil to sauté the onions or you can use this method to sauté without oil.) Onions should be nicely browned. If they start to brown too much, reduce heat to low.
2. Meanwhile prepare broccoli.
3. When onions are done, transfer to a separate container. Set aside.
4. Place broccoli into onion pan. Add 1/2 cup water and immediately cover. Cook over medium/low heat for about 8 minutes or until broccoli is tender, but not mushy.
5. While broccoli is cooking, heat cooked quinoa or rice, and stir in seasonings. Transfer to bowls. Heat beans over high heat.
Prepare Tahini Sauce
1. Place all sauce ingredients into a bowl or large measuring cup.
2. Stir very well with a fork or small whisk.
Assemble Broccoli Bowl
1. Top grains with broccoli, beans, and avocado.
2. Drizzle with Tahini Sauce.
Recipe by JennifersKitchen at https://jenniferskitchen.com/2021/10/the-healthy-broccoli-bowl.html