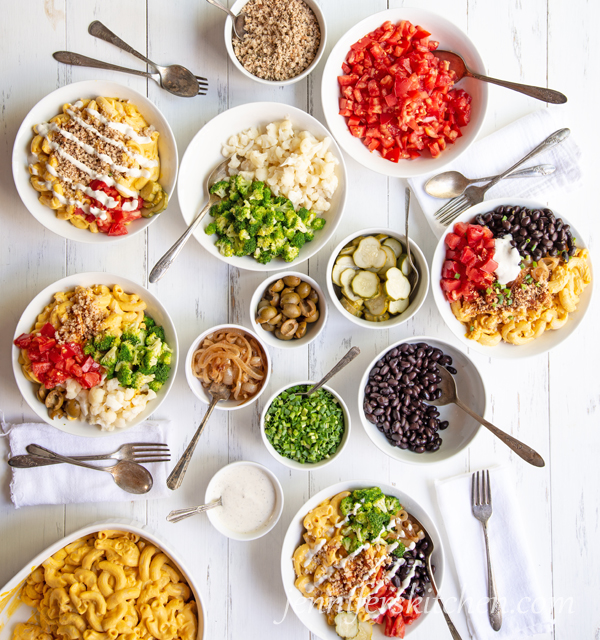 Vegan Macaroni and Cheese Bar
Yield 8 - 9 servings
Comfort food meets salad bar. The perfect make-it-how-you-like-it meal!
Instructions
1. Prepare macaroni and cheese according to recipe directions.
2. Meanwhile, prepare toppings.
- Steam broccoli and cauliflower until tender, but not mushy.
- Saute or caramelize onions.
- Heat beans.
- Dice tomatoes.
- Slice olives.
- Slice green onions or chives.
3. Allow every to assemble their plates.
One quick request: if you like this recipe, please leave a rating and a comment. Ratings help more people find these healthy recipes!
Notes
Ingredient amounts are approximate. Adjust according to personal preferences.
* * * This recipe for Vegan Macaroni and Cheese Bar is … gluten-free, plant based, oil-free, sugar-free, high in fiber, dairy free, egg-free, vegetarian, vegan, and made from real, whole foods.
Recipe by JennifersKitchen at https://jenniferskitchen.com/2021/09/macaroni-and-cheese-bar-vegan-and-gluten-free.html