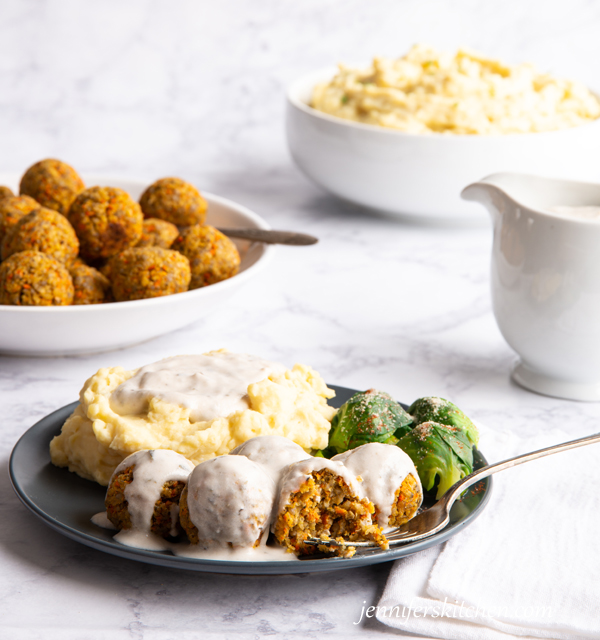 Vegan Veggie Balls
Yield 18 balls
Quick and easy to prepare, these Vegan Veggie Balls are gluten-free and delicious!
Ingredients
3/4 cup raw sunflower seeds
1 large or 2 medium carrots
1 medium leaf or 2 small leaves of kale - optional
1/2 teaspoon salt, scant
1 1/2 teaspoon granulated onion
1 1/2 teaspoon dried parsley
1 teaspoon dried basil
1 teaspoon oregano
1/2 teaspoon celery salt
1/2 teaspoon granulated garlic
1/4 teaspoon dried sage
1 tablespoon tahini
2 1/4 cups cooked brown rice
Instructions
Place seeds in a food processor and grind until medium-fine. Transfer to a bowl and set aside.
Cut carrots into large pieces and place in a food processor along with kale, and process until carrots are finely chopped (slightly smaller than the size of a grain of rice). You should have about 3/4 cup of finely chopped vegetables.
Add remaining ingredients to food processor (including sunflower seeds) and pulse several times until rice is chopped (but not pureed!) and mixture is well combined and starting to stick together.
Shape into 2-tablespoon balls. Place on a parchment-lined or oiled baking sheet.
Bake at 400°F for 25 minutes or until lightly browned on the bottom.
Notes
For a crispy (instead of a tender) outside, bake Vegan Veggie Balls at 425°F for 25 minutes.
Make Ahead Tip:
Can be made ahead of time and kept in freezer. When ready to serve, remove from freezer and bake at 350 for 15 to 20 minutes or until thoroughly heated.
Recipe by JennifersKitchen at https://jenniferskitchen.com/2021/02/vegan-veggie-balls.html