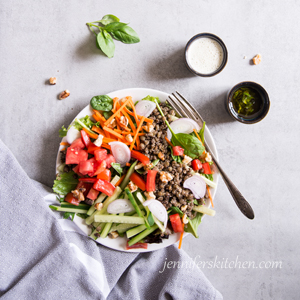 French Lentil Salad
Yield 2 sides or 1 main dish
A simple, yet elegant, main dish salad.
Ingredients
1 cup well drained, cooked lentils, scant (You can use canned lentils or cook your own using the recipe in the post.)
1 ½ teaspoons granulated onion
½ teaspoon dried oregano
Pinch salt
1 tablespoon chopped English walnuts
1 ½ cups, lightly packed, fresh mixed salad greens
1 small carrot - juliennne
1 baby cucumber - juliennne
1 shallot, sliced thin
1 small tomato, diced
½ recipe Creamy Basil Dressing (about a generous ½ cup) or Simple Basil Dressing (below)
Instructions
Mix granulated onion, oregano, and pinch of salt into cooked and drained lentils.
Chop walnuts. Set aside.
Prepare vegetables.
Place greens on a plate. Top with carrots, cucumber, shallot, tomato, and then lentils. Drizzle dressing over all and sprinkle walnuts on top.
Serve immediately.
Notes
If your lentils are already seasoned, you can skip the added granulated onion, oregano, and salt.
This recipe makes one main dish salad or two side dish salads, but it can be easily doubled, tripled, etc. to serve more people.
Make ahead tip:
To make this salad ahead of time, prepare lentils, dressing, walnuts, and all vegetables except tomatoes. Store separately in airtight containers in refrigerator until ready to serve. Just before serving, dice tomatoes and assemble salad.
Recipe by JennifersKitchen at https://jenniferskitchen.com/2019/09/french-lentil-salad.html