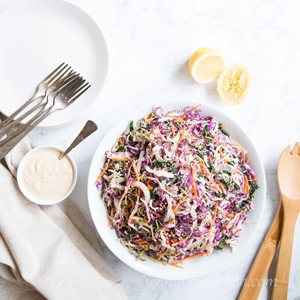 Lemon Tahini Cabbage Slaw
Yield 6 cups
With its gorgeous colors, amazing crunch, and fresh taste, this Lemon Tahini Cabbage Slaw is perfect for a healthy picnic, packed lunch, or just about any meal.
Ingredients
2 cups finely shredded red cabbage
2 cups finely shredded green cabbage 
1/2 large sweet onion, thinly sliced (or more if you really like onion)
1/2 small fennel bulb, sliced into thin slivers (about 1 cup)
2 small carrots, julienned 
2 medium kale leaves, cut into very thin ribbons (about 2/3 cup)
3/4 (heaping) teaspoon salt
1/4 cup fresh lemon juice
2 tablespoons + 1 teaspoon tahini
3 1/2 teaspoons granulated onion
2 - 3 cloves garlic, crushed
2 tablespoons toasted sesame seeds
Instructions
Place vegetables in a large bowl. Sprinkle with salt and mix well. Set aside for 30 to 45 minutes.
In a separate bowl, whisk together lemon juice, tahini, granulated onion, and crushed garlic.
After vegetables sit for 30 to 45 minutes, thoroughly drain water from the vegetables. (Do not rinse.)
Drizzle tahini dressing over the vegetables and toss well.
Mix in toasted sesame seeds.
Chill.
Notes
Slaw keeps in the fridge for 4 days.
Variation:
Mix 1 teaspoon dulse flakes in with sesame seeds.
Recipe by JennifersKitchen at https://jenniferskitchen.com/2019/07/lemon-tahini-cabbage-slaw.html