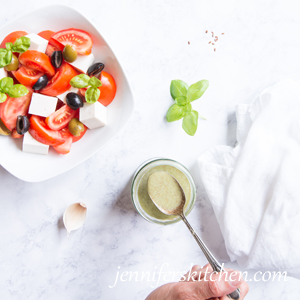 Basil Flax Salad Dressing
Yield 1 1/2 cups
A delicious vegan, nut-free, oil-free salad dressing made with fresh basil.
Ingredients
1 cup water
1/2 cup lemon juice
2 cloves fresh garlic
1 teaspoon salt
1 teaspoon granulated onion
1/4 cup packed fresh basil - about 30 fresh basil leaves
1/4 cup flax seed meal (finely ground flax seed)
Instructions
1. Place all ingredients except flax seed meal in blender and blend until smooth.
2. Add flax seed meal and blend until thoroughly mixed.
Chill.
Notes
Be sure to use flax seed meal and not whole flax seed. I like to grind my flax seed in my coffee grinder.
Recipe by JennifersKitchen at https://jenniferskitchen.com/2019/06/basil-flax-salad-dressing.html