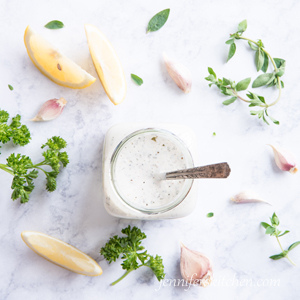 Vegan Creamy Italian Salad Dressing
Yield 1 1/4 cups
Made from healthy, whole-food ingredients, this lusciously creamy salad dressing is so delicious and so good for you!
Ingredients
2/3 cup water
2/3 cup raw cashews
1/3 cup lemon juice
1/2 teaspoon granulated garlic or 1 clove garlic
2 tablespoons olive oil - optional
2 teaspoons dried parsley
2 teaspoons dried basil
2 teaspoons granulated onion
1 teaspoon dried oregano
1 teaspoon dried minced or chopped onion – optional
1 1/4 teaspoons salt
Instructions
Place cashews in a colander and rinse under hot water. Drain well.
Place 2/3 cup water, cashews, lemon juice, and garlic into blender and blend on high speed until very smooth and creamy. NOTE: For a smooth and creamy dressing, be sure to use a high-powered blender. Without one, the results won't be creamy.
Add oil and blend very well.
Add seasonings and blend until mixed.
Chill.
Stir before using.
Recipe by JennifersKitchen at https://jenniferskitchen.com/2019/05/creamy-italian-salad-dressing-2.html