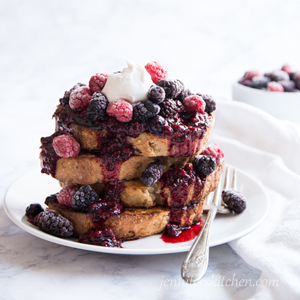 Healthy, Whole-Grain, Vegan French Toast
Yield 6 slices
With zero cholesterol, no oil, and no sugar, this vegan French toast is much, much better for you than traditional French toast.
Ingredients
1/3 cup full-fat, canned coconut milk
1 cup almond milk or soy milk
1/4 cup rolled oats or quick oats
2 tablespoon pure maple syrup
1 teaspoon vanilla
1/4 teaspoon black salt (or regular salt)
6 thick (3/4-inch) slices whole-grain Italian bread
Instructions
1. Place all ingredients except bread in blender and blend until smooth. Allow mixture to sit (in blender) for 2 to 5 minutes to thicken and to allow oats to soften.
Blend mixture again until silky smooth.
2. Transfer batter to a shallow, wide-bottom dish. Place bread slices (as many as will fit) into dish and allow to soak for 10 minutes. If using a different kind of bread, you may not need to soak bread; see instructions in post.
3. Meanwhile, preheat oven to 425°F.
4. Place bread on oiled baking sheet. Do not drain excess batter off bread. Repeat with remaining bread slices.
5. Bake in a preheated oven at 425°F for 9 to 10 min or until lightly browned on bottom. Flip over and bake for an additional 7 to 9 minutes.
For the yummiest slices, before flipping bread slices, spoon extra batter over tops of slices. Flip and continue baking according to directions.
Serve hot with one of Jennifer's Kitchen healthy toppings.
Notes
The amount of time to soak bread depends on the type of bread used. Thin sandwich bread should be very quickly dipped – no soaking needed! Thicker, heartier bread (which I recommend) needs to be soaked for up to 10 minutes to allow the batter to soak into the bread slices. See explanations/instructions in post.
Make Ahead Tip:
French toast freezes nicely. See freezing and reheating instructions in post.
Recipe by JennifersKitchen at https://jenniferskitchen.com/2019/04/healthy-vegan-french-toast.html