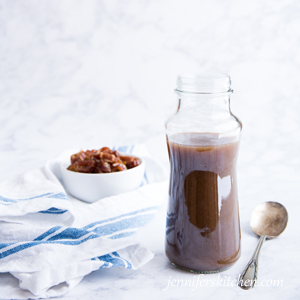 Maple Date Syrup
Yield 1 3/4 cups
A healthy and wholesome way to sweeten your morning.
Instructions
Place dates and water in a saucepan, cover, and bring to a boil. Reduce heat and simmer for 5 minutes or until dates are very, very soft.
Transfer dates and water to blender, add maple syrup and maple flavor and blend until very smooth.
Add more maple syrup or water to thin to desired consistency.
Serving Suggestions
Serve warm over waffles, French toast, pancakes, hot cereal (like this Fig Pear Oatmeal), or toast.
Notes
Keeps in the refrigerator for up to three weeks. If it thickens, add water to desired consistency.
Can be frozen.
Recipe by JennifersKitchen at https://jenniferskitchen.com/2019/03/maple-date-syrup.html