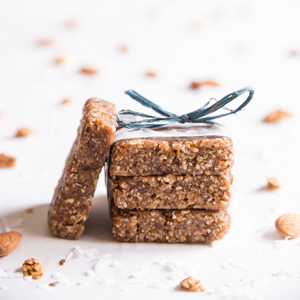 Flax Date Bars
Yield 16 1 3/4-inch squares
This yummy "energy" bar is loaded with omega-3's for a healthy body and a healthy mind.
Ingredients
1 1/4 cup unsweetened, shredded coconut     
1/3 cup flax meal (finely ground flax seed - see note #1)
1 cup raw almonds                                           
1/8 teaspoon salt, scant                                      
3 1/4 cup pitted dates (See note #2!)                       
1/4 teaspoon almond flavoring, scant              
1 1/2 teaspoon vanilla, scant                                              
1 1/3 cup Maple Nut Granola
Instructions
Place coconut, flax, almonds, and salt in food processor and process until finely chopped. Be sure they are finely chopped or the bars will not stick together.
Add dates, and almond and vanilla flavor, and process until dates are finely chopped. Mixture should begin to stick together. See note 2! 
Add granola, and process until all ingredients well mixed and granola is chopped.
Press mixture into an 8-inch x 8-inch pan. Cut into squares.
Makes sixteen 1 3/4-inch squares or twenty 1 1/2- x 1 3/4-inch. Best stored in freezer.
Notes
1. I grind my flax seeds in a coffee grinder to make flax meal.
2. The exact amount of dates needed depends on the type of dates you use. Some are moister and some are drier. The only way to know how many you will need is to test your mixture (after step 2). It should stick together when squeezed in between fingers.
3. This recipe requires a large (12- to 14-cup) food processor. If your food processor is smaller, divide recipe in half and press into a loaf pan instead of an 8-inch pan.
Make Ahead Tip:
These bars freeze well. They can be made ahead and kept in an airtight container in the freezer for up to 6 months.
Recipe by JennifersKitchen at https://jenniferskitchen.com/2018/12/flax-date-bars.html