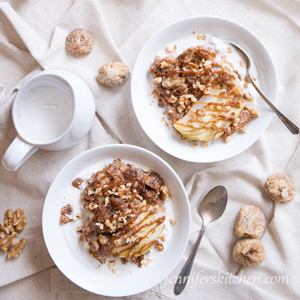 Fig Pear Oat Bake
Yield 4 to 6 servings
A delightful change from plain oatmeal.
Ingredients
1/4  cup walnut butter
2 tablespoons pure maple syrup
1/2 teaspoon salt
1/2 teaspoons vanilla
1/4 teaspoon maple flavor
2/3 cups applesauce
2 1/2 cups canned diced pears, drained well RESERVING 1/2 CUP JUICE
2 1/3 cups non-dairy milk
5  dried figs, cut into quarters or smaller
2 1/4  cups regular, old-fashion rolled oats - or gluten-free rolled oats
Instructions
1. In a large mixing bowl, whisk together walnut butter, maple syrup, salt, vanilla, maple flavor, applesauce, and 1/2 cup pear juice.
2. Stir in milk, diced pears, and chopped figs.
3. Lightly mix in rolled oats.
4. Pour into an oiled 2 1/2-quart baking dish and bake at 375°F for 35 to 40 minutes or until lightly browned.
Notes
Be sure to use Turkish figs in Fig Pear Oat Bake; black mission figs don't taste very good in this recipe.
Optional Topping:
Pear Fig Oatmeal tastes lovely with Maple Date Syrup drizzled over top.
Courses Breakfast
Recipe by JennifersKitchen at https://jenniferskitchen.com/2018/11/fig-pear-oatmeal.html