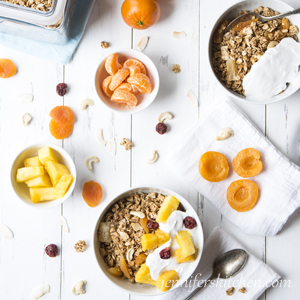 Low-Sugar Tropical Granola
Yield approx 6 1/2 cups
Instructions
Mix together dry ingredients in a large mixing bowl.
Place wet ingredients in blender and blend until smooth.
Pour wet mixture into dry ingredients while mixing. Mix well.
Line 2 baking sheets with parchment paper and distribute granola evenly in a thin layer onto baking sheets.
Bake a 300°F for 20 minutes. Stir. Reduce oven to 200°F and continue baking for 60 minutes or until thoroughly dry.
Mix in dried fruit.Store in airtight container in the freezer or in a cool place.
Recipe by JennifersKitchen at https://jenniferskitchen.com/2018/04/low-sugar-tropical-granola.html