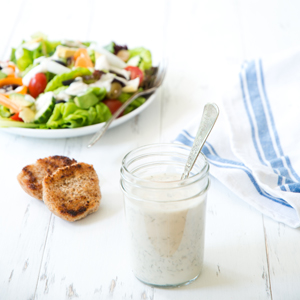 Cashew Dill Dressing (Vegan)
Yield 2 1/2 cups
A lusciously creamy, perfectly delicious, vegan salad dressing that tastes great on everything!
Ingredients
1 1/2 cups raw cashews
1 cup water
1/4 cup lemon juice
3/4 teaspoon salt
1 teaspoon granulated onion
1 clove garlic
1 1/2 teaspoons dried dill weed
Instructions
Wash cashews in a colander under very hot water. Drain well.
Place drained cashews and remaining ingredients, except dill, in blender and blend until very, very smooth. This may take several minutes.
Stir in dill.
Chill for at least 45 minutes but preferably overnight.
Recipe by JennifersKitchen at https://jenniferskitchen.com/2018/02/dill-dressing.html