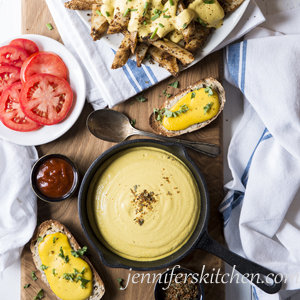 Vegan Cashew Cheese Sauce (without nutritional yeast)
Yield 1 3/4 cups
A delicious, plant-based cheese sauce that tastes great over potatoes, pasta, steamed vegetables, and more.
Instructions
Rinse cashews in a colander under very hot water.  Drain very well.
Place all ingredients in blender and blend until very smooth.
Notes
1. It may take several minutes to blend if you don't have a powerful blender. Mixture should be very smooth with no graininess.
2. If you have a powerful blender, just peel and trim a medium carrot and place in blender whole. No need to slice and measure.
Recipe by JennifersKitchen at https://jenniferskitchen.com/2017/12/5-minute-vegan-cashew-cheese-sauce.html