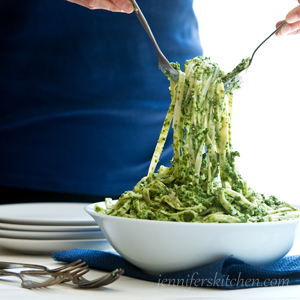 Fettuccine with Parsley Almond Pesto (Vegan)
Yield 2 large or 4 small servings
Fresh. Quick. Easy. Flavorful. Vegan. Gluten-Free. The perfect pasta recipe.
Ingredients
8 ounces uncooked fettuccini
1/2 cup raw almonds
3 3/4 cups (packed) fresh parsley (large and tough stems removed)
4 - 5 cloves garlic
1 cup (packed) fresh basil leaves
1 1/2 teaspoons granulated onion
3/4 teaspoon salt
3 tablespoons olive oil
2 tablespoons lemon juice, scant
3/4 cup pasta water
Instructions
Cook pasta according to package directions. Reserve 3/4 cup of pasta water when draining pasta. (The pasta water will be added to the blender.)
While pasta is cooking, place almonds in food processor and coarsely grind.
Add parsley and garlic and process until parsley is almost pureed.
Add fresh basil, granulated onion, salt, olive oil, and lemon juice and process until basil is very, very finely chopped.
Remove 3/4 cup of pasta water from pasta and add to pesto. Process until mixed.
When pasta is done, drain pasta. Serve parsley pesto over hot pasta.
Notes
1. This recipe works great in a 12-cup food processor. If your food processor is smaller, you may want to prepare the pesto sauce in batches.
2. This recipe generously serves two. If you'd like to make a double recipe, be sure to make sauce in batches. A double recipe of the pesto sauce needs more space than it will get in a 12-cup food processor.
3. Actual hands-on time is less than 15 minutes. The total time you need to give yourself to make this recipe depends on how long it takes your stove to bring water to boil.
Recipe by JennifersKitchen at https://jenniferskitchen.com/2017/08/fettuccine-with-parsley-almond-pesto-vegan.html