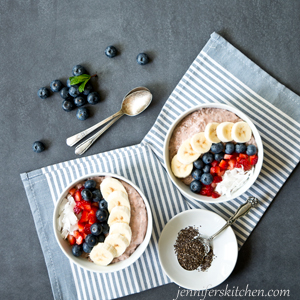 Berry Chia Breakfast Bowl
Yield 2 servings
This grain-free, gluten-free, sugar-free, naturally sweet, vegan breakfast is a luscious way to start your day.
Ingredients
1/2 cup canned coconut milk
1/3 cup almond milk
2 tablespoons blanched almonds or raw cashews
2 teaspoons frozen orange juice concentrate
1/2 teaspoon vanilla
1 pinch salt
2 cups sliced or diced, strawberries – divided
1/4 cup chia seed
3/4 cup fresh blueberries
1 small banana, sliced – optional
Instructions
Place dates, coconut milk, almond milk, nuts, orange juice concentrate, vanilla, salt, and 1 cup strawberries in blender and blend until smooth.
Transfer blender mixture to medium bowl and stir in chia seed.
Place in refrigerator for at least 2 hours, or overnight.
Stir in blueberries, remaining strawberries (sliced), and sliced bananas just before serving.
Notes
Frozen berries can be used in a pinch, but fresh berries work better.
Recipe by JennifersKitchen at https://jenniferskitchen.com/2017/07/berry-chia-breakfast-bowl.html