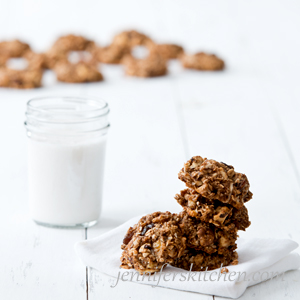 Banana Breakfast Bites
Yield 40 cookies
High-fiber, slimming oats; naturally sweet bananas, dates, and raisins; luscious almond butter; and a handful of omega-3-rich walnuts and you have a delicious start to a beautiful day!
Instructions
Mix together dry ingredients (oats through salt).
In a separate (large) mixing bowl, mix together almond butter, coconut oil, and vanilla.
Mash bananas well and measure to equal 2 cups. (I mash mine directly in my 2-cup measuring cup. Any extra banana pieces go into the freezer for this delicious Banana Carob Smoothie.) Stir into almond butter mixture.
Add dry ingredients to wet ingredients. Mix well but don't overmix.
Using a 2-tablespoon cookie scoop, drop onto an oiled baking sheet. (I use a parchment-lined baking sheet.)
Bake at 350°F for 15 to 20 minutes or until nicely browned on the bottom.
Notes
1. Makes about 40 "bites".
2. These Banana Breakfast Bites freeze well. For the best taste and texture, reheat before eating.
Courses Breakfast
Recipe by JennifersKitchen at https://jenniferskitchen.com/2016/12/sugar-free-banana-breakfast-bites.html