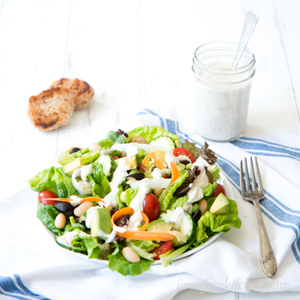 Power Salad
Yield 1 hearty serving
Packed with protein, healthy fat, fiber, and an abundance of other nutrients, this filling power salad is a satisfying meal in itself.
Ingredients
2 3/4 cups chopped salad greens (about 4 to 8 ounces, depending on the type of greens)
1/2 cup drained white beans
1/4 cup shredded carrots
1/3 cup diced artichoke hearts
1/3 cup sliced olives
3 tablespoons diced sweet onion
1/4 cup diced cucumber
1 small tomato, diced or a small handful of cherry tomatoes
1 clove garlic, crushed – optional
2 tablespoons sunflower seeds or pepitas
1/2 avocado, diced
1/2 cup salad dressing
Instructions
Place salad greens on a plate.
Top with remaining ingredients.
Notes
This is a super flexible meal – feel free to adjust toppings to your personal preferences!
Recipe by JennifersKitchen at https://jenniferskitchen.com/2016/05/power-salad.html