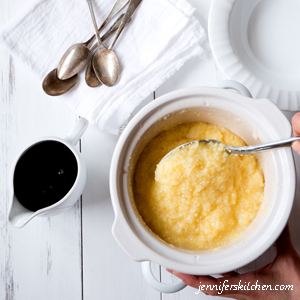 Easy, No-Stir, Crock Pot Polenta Recipe
Yield 4 servings
Make polenta in your slow cooker - an easy, fool-proof method for cooking polenta.
Instructions
Stir together water and polenta in a small 1 1/2- to 2-quart crock pot.
Cover and cook on high for 3 1/2 hours or on low for 7 hours. I use an appliance timer to start the polenta at the right time if I'm not going to be home.
After the allotted time, remove lid and stir polenta vigorously. Polenta should be soft and creamy, not runny and not too thick. If serving time will be delayed, keep covered with crock pot on "warm" setting.
Notes
1. All slow cookers cook differently. If you find that your slow cooker cooks too hot, reduce cooking time.
2. If your polenta sticks to the side of your slow cooker, turn it off 30 minutes before serving time keeping the lid on. Immediately before serving, remove lid and stir vigorously to incorporate polenta that was stuck on the sides with the rest of the polenta. This will only work if the polenta on the sides has not browned. If this is the case see note #1.
Recipe by JennifersKitchen at https://jenniferskitchen.com/2016/04/all-about-polenta-and-an-easy-no-stir-polenta-recipe.html