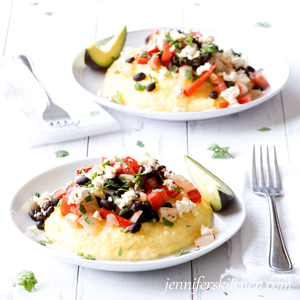 Mexican Black Beans over Polenta - That Was Easy!
Yield 2 - 4 servings
Add a fresh, green salad with a creamy dressing and you have a delicious meatless meal.
Ingredients
5 cups cooked polenta (See easy directions here.)
1 large yellow onion or sweet onion, diced
1 red bell pepper, diced
1 tablespoon oil
4 cloves garlic, minced
1 1/2 teaspoons granulated onion
3/4 teaspoon cumin
1/2 teaspoon granulated garlic
1/2 teaspoon dried basil
1/4 teaspoon dried oregano
1/8 teaspoon paprika
1/4 to 1/2 teaspoon salt if using beans with salt, or 3/4 teaspoon salt if using unsalted beans
2 teaspoons lime juice
1 1/2 cups (one 15-ounce can) black beans, rinsed and drained
2 fresh Roma tomatoes, diced
1/2 cup fresh minced cilantro
OPTIONAL
avocado dices
crumbled tofu
lime wedges
Instructions
In a skillet, sauté onion and pepper in oil over medium heat until onions are translucent, stirring often (about 8 minutes).
Add garlic and sauté one additional minute.
Add seasonings, lime juice, and black beans. Turn heat to high and cook until thoroughly heated (about 2 minutes).
Stir in tomatoes. Remove from heat.
Divide polenta among four plates or shallow bowls, spoon bean mixture over polenta and top with cilantro and other desired toppings.
Serve hot.
Recipe by JennifersKitchen at https://jenniferskitchen.com/2016/04/15-minute-mexican-black-beans-over-polenta.html