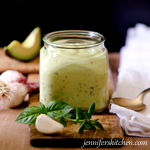 Basil Avocado Salad Dressing
Yield 2 cups
This smooth and creamy salad dressing is bursting with flavor, and because it's made with natural fats instead of refined oils, it's great for weight loss.
Ingredients
1/3 cup raw cashews
1 cup water
1/4 cup + 1 tablespoon lemon juice
16 fresh basil leaves (more or less depending on taste)
4 cloves garlic
2 teaspoons granulated onion
1/2 teaspoon salt
1 medium avocado
1/2 teaspoon dried oregano
Instructions
Place cashews, water, lemon juice, basil leaves, garlic, granulated onion, and salt in blender. (A heavy-duty blender works best for this recipe; other blenders may not get the mixture smooth enough.) Blend until very smooth and creamy.
Peel and pit avocado and coarsely dice or mash flesh. Add to blender. (The reason for dicing the avocado before blending is to prevent avocado from needing to be blended too much as this makes the dressing airy.)
Add oregano to blender and pulse just enough to thoroughly mix. Do not overblend.
Adjust seasonings to taste. Because a medium avocado can contain anywhere from 7/8 cup to 1 1/3 cup mashed flesh, additional seasonings may need to be added for the best flavor.
Notes
Best if used immediately, but will keep in the refrigerator for a couple days with minimal discoloration.
For extra flavor, add more garlic and basil.
Recipe by JennifersKitchen at https://jenniferskitchen.com/2015/07/basil-avocado-salad-dressing.html